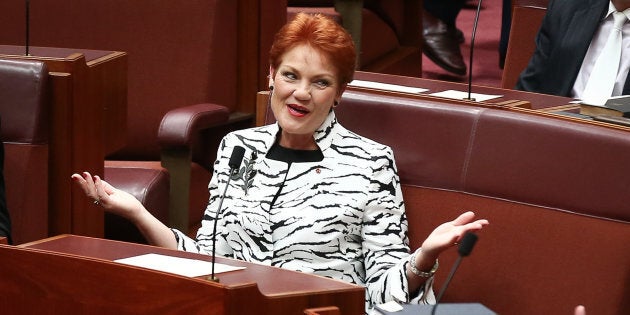 CANBERRA -- Pauline Hanson -- the leader of a proudly anti-immigration party, who has likened Islam to a "disease" to be vaccinated against, who warned Australia would be "swamped by Asians" and "swamped by Muslims" -- reckons she's never said anything racist ever.
In fact, she says she has been the victim of racism herself.
Hanson, the leader of One Nation, took the floor of the Senate on Wednesday to discuss the Human Rights Legislation Amendment Bill 2017, which among other changes would amend 18c of the Racial Discrimination Act to replace the words 'offend', 'insult' and 'humiliate' with 'harass'. Hanson is a supporter of the change, which has been criticised by Labor, the Greens and multicultural groups as watering down racial discrimination protections.
However, Hanson made the case that white people -- namely herself -- have been victims of racism, too.
"A lot of people think that because you are a white Australian you do not have racist comments directed at you. You might be surprised, but I have had racist comments said to me. But I let it go over the top of my head; it is water off a duck's back," she said, detailing an incident in 1996 where, during a meeting with Indigenous elders, she was allegedly called a "pig in mud" and "white trash".
"I think what has happened over time is that there is reverse racism in Australia. Australians are feeling the brunt of this and are fed up."
It seems Hanson borrowed most of her speech from an eerily similar one she made last November, spouting the same claims of "reverse racism" and being a victim of racism herself. She went on to detail her support for changing 18c, before making a claim that surprised many.
"You call us racists and bigots. As I said, the word 'racist' means to believe your race to be superior to another. I have never, ever said that. I challenge anyone to show me anything I have said that has been racist," she said.
"You use the word 'bigot'. There are many people, and I am sure everyone in this
chamber, who are a bigot in their own way, because you can be intolerant of another person's culture or religious beliefs. That is the human race."
Again, the claim of never having said a racist thing comes from a senator and political party who:
Well. Senator Hanson asked for examples.
Click below to follow HuffPost Australia Politics on Facebook!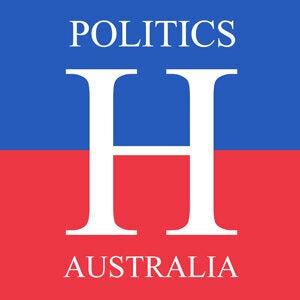 ALSO ON HUFFPOST AUSTRALIA