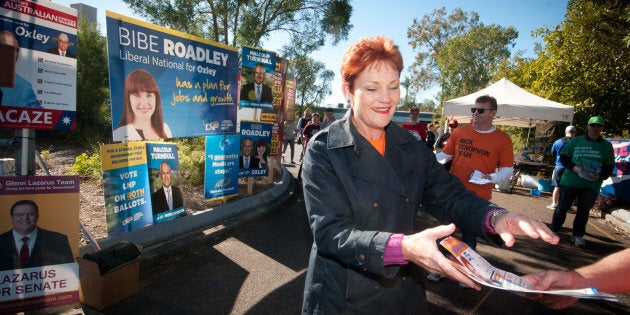 The profile of Hanson, who has drawn a large vote in Queensland and around the country, may be enough to see candidates from her party elected to the Senate in other states too, with experts tipping a second QLD senator as well as possibly another in NSW. Hanson herself claimed her party may claim as many as six senators nationwide. She held her first big press conference in Brisbane on Monday, and leaned heavily on her greatest hits -- criticisms of Islam and "Asians", and a push for reforms to immigration.
Rather than writing around the quotes, we thought we'd just present them verbatim. Enjoy... or not.
On criticisms of her policies as "racist":
There is nothing racist in it. I have the right to an opinion... What I'm saying is let's get back to the Australia where we as a nation had a right to have an opinion and have a say. Clearly, the way our nation is going is not in the right direction and my opinion and my policies were clearly accepted by the Australian people just last Saturday.
On her previous claims that Australia was being "swamped by Asians":
You go and ask a lot of people in Sydney, at Hurstville or some of the other suburbs. They feel they have been swamped by Asians and regardless of that now, a lot of Australians feel that Asians are buying up prime agricultural land, housing, you ask people in Melbourne how they feel about it as well.
A lot of countries around the world don't want Islam. We pull back... You can't deport the Muslims that are here... It is that you have our values, our culture and our way of life, that's in Australia. You don't have a full burqa, that's been proven in other countries around the world that have banned the burqa in Government areas, schools and educational places. You don't keep putting up mosques and it's not me, it's our society that are on the streets protesting against the building of mosques.
If you actually look at it, what I'm talking about is the mix and the make-up that will actually destroy our culture and our way of life. We are a Christian country and that's what I'm saying is we have never ever had any issues or problems or fear in our country from any other religion. That's fact.
On her idea to ban Islamic schools:
I'd like to know what they're actually teaching in those schools and what's being said in the mosques. You can't deny the fact that in these mosques they have been known to preach hate towards us. Is that a society that we want to live in? I don't believe it is. Why don't we investigate this further to ensure that we don't become like the place many other countries around the world are and we've seen it happen in Denmark and England and Germany and France and Tunisia, Egypt, you know, and America. Everywhere. Do you want to see terrorism on our streets here? Do you want to see our Australians murdered? And if I'm so wrong and Muslims feel that way, why don't I have them standing beside me saying, "Yes, we value the Australian way of life. We're against Islam, against all this." They don't come out strong because they can't do it.
On whether she still wants a Royal Commission into Islam:
I think that there are many other issues and I'm not just on about Islam and I will not back away from that but I think there are more important issues here and I'd like first a Royal Commission into the banking and finance sector.
On Malcolm Turnbull and Bill Shorten:
To tell you the truth, I don't particularly like either one of them as the Prime Minister of this country.
On her first priorities in the parliament:
I would like to work with every member of parliament to clean up our family law act and the child support. It disturbs me greatly to see so many fathers and women that are actually mothers who are suiciding. When I was in parliament, this was the biggest issue coming across any member of parliament's desk and yet nothing has changed, if not it's worse. It's an absolute disgrace.
Our policy is to have a referendum rather than a plebiscite and, if not, then it comes to a conscience vote by every elected member on the floor of parliament. Why I'm calling for a referendum is that to change the wording in the constitution, which is section 51 of the Australian constitution, and it just defines the word "marriage."
Side note from us: the constitution actually doesn't define marriage. That would be the Marriage Act of 1961. Here is what the constitution says about marriage: