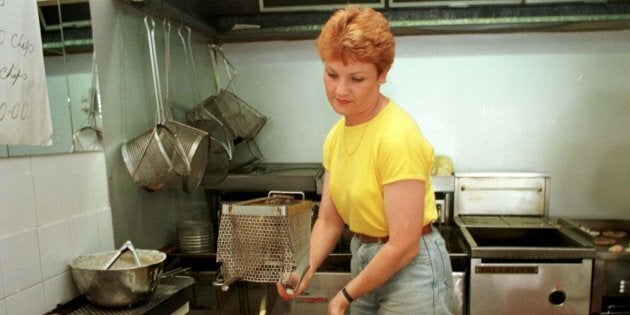 The deep friers that served in Australia's most famous fish and chip store could soon be replaced to cook the one dish Pauline Hanson really, really doesn't like -- halal snack packs.
A crowdfunding page has been launched that looks to fund the purchase of Hanson's former Ipswich store and turn it into a kebab shop or a pop-up halal snack pack store in order to "make a point to the new senator elect from Queensland."
Hanson was also quick to return to her political roots on Monday in a press conference where she reasserted Australia is being "swamped by Asians".
James Warne, the organiser behind the page, told the Huffington Post Australia the page was launched to make a statement about Hanson's political outlook.
"It'd be good if it generated more publicity about how antiquated her views are and how xenophobic and racist they are and how misinformed she and her party are about halal," he said.
"She's just using the same language that she was using when she was last elected to the senate. You're just replacing Asian people with Muslims and basically in all of her speeches it's the same, unfortunately."
Warne says the page was initially posted as a joke, however the response has been overwhelmingly positive.
"It's been bigger than I thought it would be," he said.
"It's basically just for giggles, a funny practical joke and a good way to make a point that it's a shame she's back."
While Hanson will be looking to take her controversial perspective to the Australian Senate, it seems halal might just make its way to her in a dish served fresh with irony.