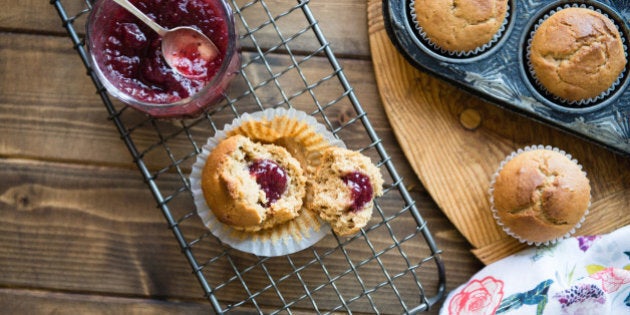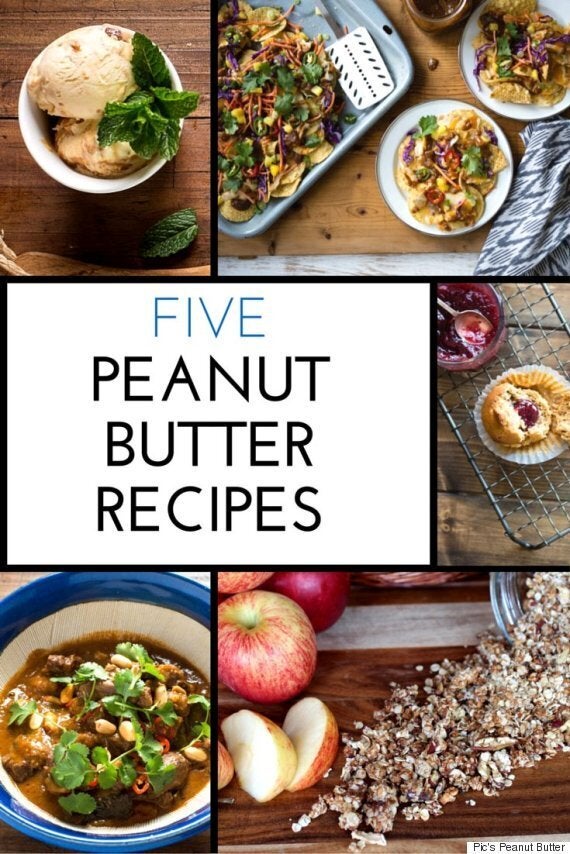 Oh, peanut butter. How delicious you are when spread thickly on toast (or eaten straight out of the jar if you're completely hooked).
But it's not just for toast -- whether you like it smooth, crunchy or somewhere in between, peanut butter is perfect in both sweet and savoury dishes.
If you're a peanut butter addict these recipes from Pic's Peanut Butter will give you pure joy. And if you're not yet a fan (who are you?), these indulgent meals and desserts are sure to convert you to the wonderfully nutty dark side.
Autumn Peanut Butter Granola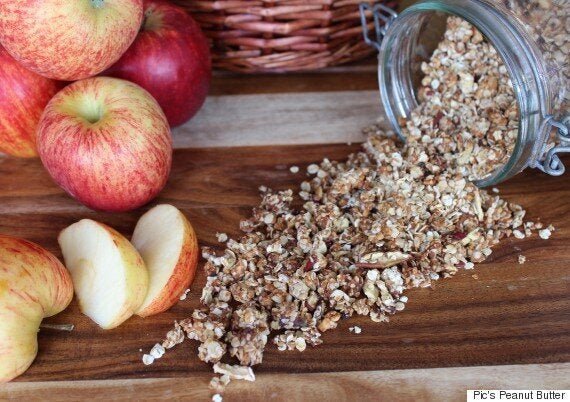 2 cups of rolled oats
½ cup of crunchy peanut butter
1 tsp vanilla extract
½ tsp ground cinnamon
¼ cup of honey
¼ cup of finely diced apple
Extras of choice: seeds, whole toasted nuts, dried fruits
Preheat oven to 180°C.
In a mixing bowl combine the honey, peanut butter, vanilla and cinnamon.
Heat in the microwave for 30 seconds at a time until smooth.
Add oats and apples, and stir until they are well coated.
Bake for 10 minutes, stir and bake for five more minutes. The mixture may seem soft when you remove it from the oven but it firms up as it cools.
Love peanut butter and jam? Omit the apples and stir ⅓ cup of good quality jam to the honey mix.
Easy peanut butter and salted caramel ice cream
300g crunchy peanut butter
350g caster sugar
450ml cream
20ml Pic's peanut oil (or an unrefined cold pressed peanut oil)
1 tsp sea salt
2 litres vanilla ice cream
For the caramel, combine the sugar and 80ml of water in a saucepan, stir over medium-high heat until the sugar dissolves, bring to the boil and cook until a medium-dark caramel forms.
Remove from the heat and carefully add the cream. Whisk until smooth and dissolved, then add the peanut butter, sea salt and peanut oil.
Allow the vanilla ice cream to soften slightly at room temperature for 15 minutes.
Transfer to a large metal bowl and using a large spoon stir in the peanut butter caramel to form a ripple effect.
Return the ice cream back into a clean ice cream container and freeze until firm.
Optional -- stir through a little of your favourite jam to make peanut butter and jelly ice cream.

Peanut butter surprise muffins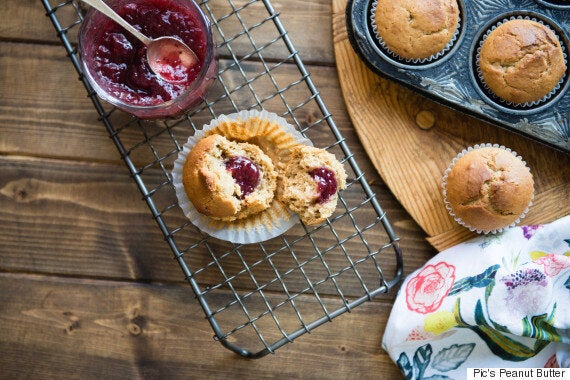 ½ cup smooth peanut butter
¼ cup unsalted butter, at room temperature
1 cup light brown sugar, packed
2 large eggs, lightly beaten
2 teaspoons pure vanilla extract
2 cups all-purpose flour
2 teaspoons baking powder
½ teaspoon baking soda
½ teaspoon sea salt
¼ teaspoon ground cinnamon
1 cup milk
½ cup thick all-fruit jam or spread
Preheat oven to 200°C. Prepare a standard muffin tin with 18 paper liners.
In a large bowl, beat peanut butter and unsalted butter with an electric mixer until creamy. Add the brown sugar and beat until well combined. Add the eggs and vanilla, and continue beating until light and creamy.
In a separate bowl, whisk flour, baking powder, baking soda, sea salt, and ground cinnamon. Add one third of the dry ingredients to the creamed mixture and beat on low speed, until just combined. Add half of the milk and beat again. Add another third of the remaining dry ingredients, followed by the rest of the milk, and ending with the remaining dry ingredients. Continue mixing just until batter comes together. Do not over-mix.
Using a small ice cream scoop or spoon, fill the wells of the muffin tins about ¼ full. Use the tip of a spoon to push the batter to cover the entire bottom and a little up the sides. Place one rounded teaspoon of jam in each of the 18 wells, making sure to keep it in the center as much as possible. Top the jam with the remaining batter, making sure it covers the jam.
Bake for 15-20 minutes, or until the tops are golden brown and spring back when gently pressed. Let them cool in the tin for 10 minutes, then remove and serve.
Thai chicken nachos with peanut butter curry sauce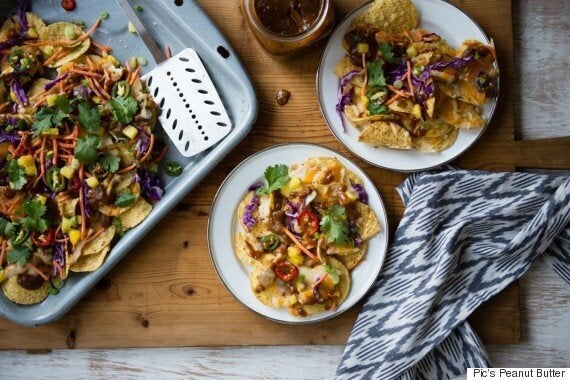 One bag of tortilla chips
1-2 cups cooked chicken breast, shredded or diced (optional)
2 cups shredded cheese
¾ cup shredded red cabbage
½ cup shredded carrots
½ cup fresh pineapple, diced
5 green onions, thinly sliced
2-3 hot chillies, thinly sliced
¼ cup chopped coriander
½ cup crunchy or smooth peanut butter
¼ cup dark brown sugar
¼ cup coconut milk
1 Tbsp Thai red curry paste, or more to taste
Juice of 1 lime
Preheat oven to 200°C. Have a large, rimmed baking sheet ready.
Whisk together sauce ingredients and set aside.
Arrange chips in an even layer on the baking sheet. Sprinkle the chicken evenly over the chips. Drizzle with some of the peanut butter sauce followed by the cheese. Place in oven and bake for 5-10 minutes, or until cheese is completely melted.
Sprinkle the shredded cabbage, carrots, pineapple, chillies, green onions, and coriander over the nachos. Drizzle with more of the peanut sauce. Serve immediately.
Note: For a meatless meal, leave off the chicken for amazing vegetarian nachos. This recipe makes enough sauce for 2-3 batches of nachos. Store in the fridge for 1-2 weeks.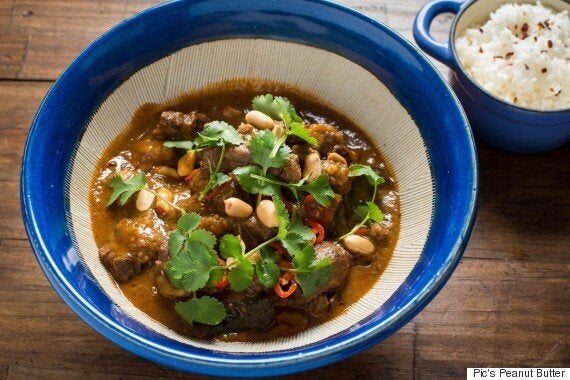 60g unsalted peanuts
2 Tbsp crunchy peanut butter
4 Tbsp Massaman curry paste
40ml Pic's peanut oil (or an unrefined cold pressed peanut oil)
600g stewing beef
400g waxy potatoes, cut into 2cm dice
1 can coconut cream
1 brown onion
3 kaffir lime leaves
1 cinnamon stick
1 Tbsp palm sugar
1 Tbsp tamarind paste
1 Tbsp Thai fish sauce
2 red chillies, deseeded & chopped
1 bunch coriander, roots left on, chopped
Heat oven to 180°C, then roast the peanuts on a baking tray for five minutes or until golden brown. Allow to cool, then roughly chop. Reduce oven to 160°C.
Heat the peanut oil in a large oven proof pan with a lid. Add the beef and brown well on all sides. Then add the curry paste and fry slowly for an extra four minutes.
Stir in peanut butter, coconut cream, half a can of water, diced potatoes, onion, lime leaves, cinnamon, tamarind, palm sugar, fish sauce and half of the peanuts.
Bring to a simmer, then cover and cook slowly for about two hours in the oven until the beef is very tender.
Remove from the oven, sprinkle with chopped chilli, coriander and the remaining peanuts.
Serve with jasmine rice.