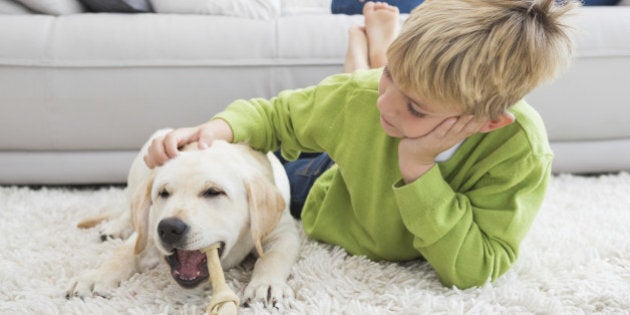 Pet lovers, rejoice! Because now you can go on holiday knowing your furry friend is in safe hands thanks to recently launched app, Pawshake.
Founded in Belgium by ex eBay colleagues Dries Coucke and Tanguy Peers, Pawshake is an online platform that pairs pet owners with local pet sitters who can be booked with little notice at a price up to 50 percent cheaper than kennels.
The idea was something Peers had thought about for some time having been involved with rehoming pets for the past 15 years in Belgium however, it was something he knew he couldn't do alone.
"In 2013, after seeing what was happening in the sharing economy space in Europe and America we thought it was time to join forces and bring the idea to life," Peers told The Huffington Post Australia.
So, after a brief meeting in a cafe, a business plan was put in place and within a few months the first version of the website was launched in Belgium.
"We literally wrote down a business plan on the back of a piece of paper in a cafe and three months later we launched the first version of the website and a few months after that, the mobile app," Peers said.
Both Peers and Coucke knew that Australians were early adopters of new technology from their time at Gumtree and eBay, so it was a no-brainer to branch out to Australia.
Fast-forward 12 months and Australians are exchanging one message every minute on the app with more and more pet owners signing up as the summer months approach.
As for the pet sitters, well, they come from all walks of life and have one thing in common -- a huge love for animals.
"Typically we have a lot of young families with children who haven't yet decided if they'd like a full-time pet and university students that live away from home and miss having a pet around," Coucke said.
"On the other hand we have people who already have a dog and would like to have a second dog in their home perhaps for weekend play dates and to keep the other dog company," Coucke said.
Its third party insurance policy valued up to $10 million provides both the pet sitters and owners with peace of mind however, Coucke said the most important aspect of the service is the requirement for both the pet owner and sitter to meet in person during a "meet and greet" prior to booking the sitter online.
"We offer a fully customised service, so it is during the meet and greet that owners can educate sitters with their pet's needs for example, any behavioural issues or fears of things like fireworks and so on," said Peers.
Similarly to Uber and Airbnb pet sitters are rated by pet owners after each stay.
"We vet at registration on an ongoing basis through different tools like phone interviews and pet owners also leave a review for the pet sitter," Coucke said.
But perhaps the best part is the daily photo updates and even the opportunity to Skype your pet.
"Pet owners want peace of mind, they don't just want to take their dog to a kennel where they will sleep and eat -- they want to leave their dog with someone they know will play with them and look after them in a loving environment," Peers said.