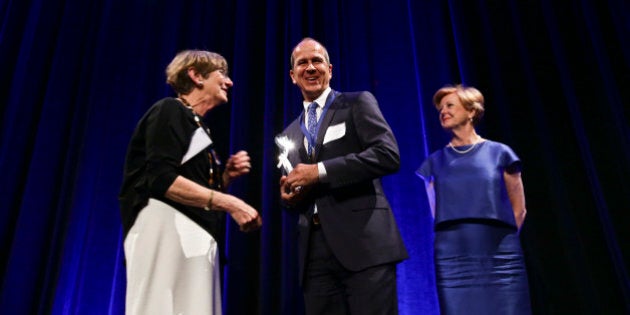 SYDNEY -- Freedom of speech campaigner and freed Australian journalist, Peter Greste, has won the 2015 Human Rights Medal.
The Al Jazeera correspondent spent 400 days detained in an Egyptian jail with his colleagues Mohamed Fadel Fahmy and Baher Mohamed, accused of colluding with the Muslim Brotherhood and news reporting which was "damaging to national security".
Greste was honoured at the Human Rights Commission's annual awards in Sydney on Thursday for "selflessly and tirelessly" campaigning for the release of his colleagues and press freedom.
"It means an enormous amount," Greste told The Huffington Post Australia. "It is everything.
"I have always felt that this isn't about anything I have done, so much as what we came to represent, which is about freedom of speech and freedom of the press.
"From that perspective alone this is a hugely important award."
Greste was up against other human rights advocates, Maha Abdo, Rodney Croome, Professor Pat Dudgeon and Adam Goodes.
The journalist noted on Wednesday that the odds were against him.
The President of the Human Rights Commission, Gillian Triggs described Greste as an impressive person and a worthy winner.
"Peter just stood out as a beacon globally and I just think as Australian we are just very proud of him," she told HuffPost Australia.
"What I was am so impressed by, is he then turned around and started to do the same thing for the men who were left behind.
"He has not given up. He got what was needed personally, obviously, but he has not given up in talking about the way in which unfortunately journalists are dealt with globally."