 An Australian refugee advocate has started a crowd-funding campaign to buy phone credit for asylum seekers detained on Nauru and Manus Island.
Shane Bazzi, a Sydney-based advocate who says he is regularly in touch with many asylum seekers in both centres, started the campaign on crowd-funding site Chuffed earlier this month. Asylum seekers do have access to closely-monitored phone lines and internet connections at the detention centres, and while they are not permitted to have mobile phones, but some have obtained personal phones.
"Asylum seekers and refugees at the Manus and Nauru detention centres have their regular phone and Internet communications monitored by guards," Bazzi wrote on the crowd-funding page.
"Some refugees on Manus are only allowed to use the phone and Internet once a week. It is very important that asylum seekers and refugees are able to communicate freely with advocates, lawyers, and doctors, as well as their families and friends."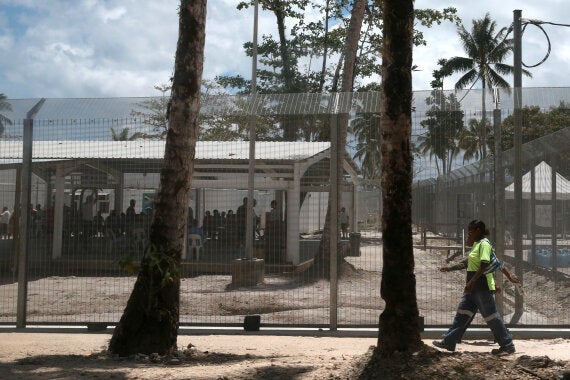 Manus Regional Processing Centre
Bazzi aimed to raise $2000 to purchase credit for the contraband phones.
"The refugees' communications are quite restricted. They are usually only allowed phone and internet access three times a week," he told The Huffington Post Australia.
"Some of the people who have received refugee status and are refusing to move into the transit centre in the community, they're put on restrictions that they're only allowed to use it once a week, to sort of pressure them into moving."
Bazzi said guards eavesdrop on phone conversations and watch over the shoulders of refugees using computers.
"There is a lot of abuse that happens in these places, but they cant say that if the guard who abused them is standing behind them," he claimed.
"[The guards] are watching what [the asylum seekers] are saying. There is no ability to communicate freely, which is why some of them have smuggled in phones."
South Australian refugee advocate Jeanie Marie Walker, who is also in touch with many asylum seekers on both Nauru and Manus Island, claimed guards regularly raid living quarters and seize phones. She said one such raid had happened as recently as Sunday night.
"The raids are every few weeks, but the refugees are getting good at not having their phones around when there's raids happening, so the guards are sneaking around and checking windows," she told HuffPost Australia.
"[One refugee] has had six or seven phones taken away."
Walker said mobile phones were not just useful for contacting advocates, lawyers or doctors, but also for keeping in touch with family and friends to stave off depression and anxiety.
"Phones are invaluable, completely invaluable. You don't understand how many people are alive in those centres because of the phones. There's mental illness and depression. If the refugees didn't have the ability to talk to people, there would be people dead. It is to keep them halfway stable and give them some sort of hope," she said.
"They all used to think all Australians hated them, because all they've had to do with Australians is the Border Force putting them in there. With the phones, they know we care and it has given them hope that some people are trying to help them."
The Huffington Post Australia has sought comment from the Government.