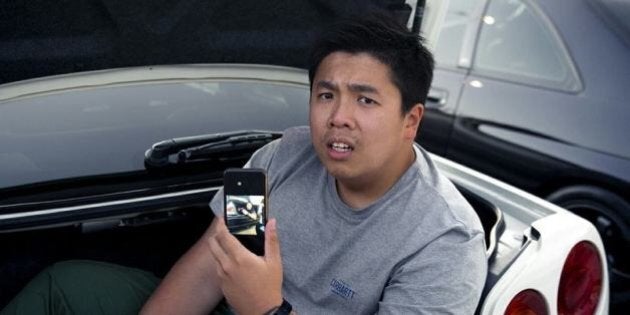 An Australian man who claimed his misunderstood name had caused him untold problems in the past has now claimed the entire episode was a hoax.
The 23-year-old "Phuc Dat Bich" came to global attention recently after a Facebook post where he spoke about his "unfortunate" name went viral. The post was covered across the globe, picked up by the Daily Mail, BBC, Buzzfeed, New York Magazine and countless others.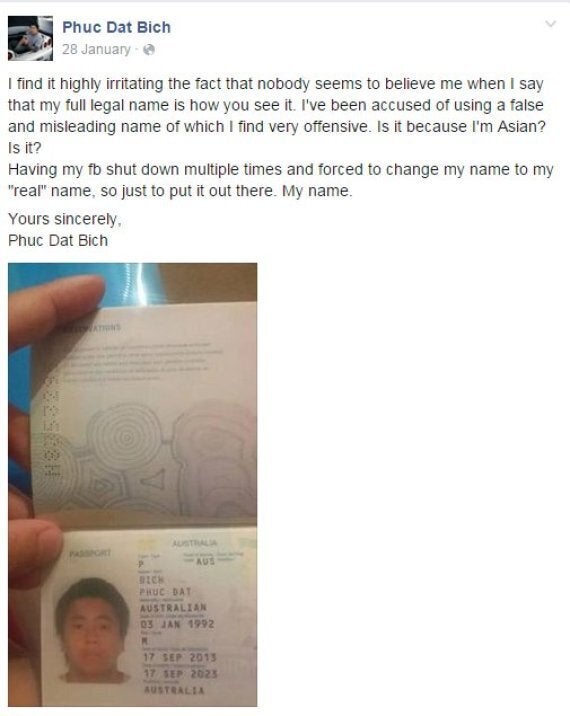 In recent days, the man has thanked those who gave him support, saying "We live in a diverse and multicultural society and the fact that there are people out there who are supportive and encouraging really makes me happy. I've never ranted nor wept that my post would get this sort of exposure. But I am glad and honoured to be able to make people happy by simply making them laugh at something that appears outrageous and ridiculous."
However, as SBS pointed out, in another post on Wednesday afternoon he claimed the entire exercise had been a hoax and poured scorn on media for reporting the story. He signed off the post Joe Carr -- or joker. SBS claimed they had contacted the man for information, claiming inconsistencies in his story, just hours before the post.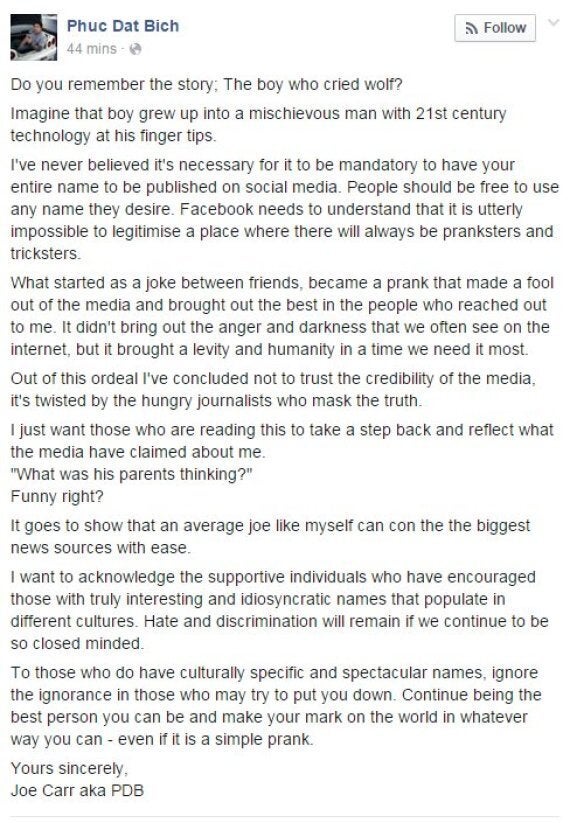 "Out of this ordeal I've concluded not to trust the credibility of the media, it's twisted by the hungry journalists who mask the truth. I just want those who are reading this to take a step back and reflect what the media have claimed about me," he wrote.
"It goes to show that an average joe like myself can con the the biggest news sources with ease."
At this stage, it's unclear how the initial passport image came into being; whether a Photoshop creation, a forgery or fake.
UPDATE: As Tal Waterhouse points out on Twitter, a closer examination of the passport shows Phuc Dat Bich's name to be written with a different colour and kerning (space between letters) to the rest of the passport.
Take a closer look and see what you think: