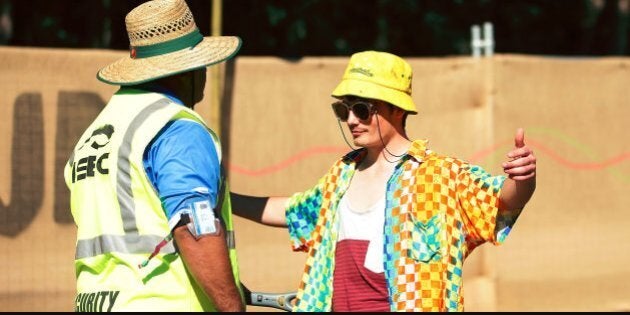 A progressive pill testing trial that was to be implemented for this year's Spilt Milk music festival in Canberra along with the support of the ACT government will reportedly no longer be happening after a testing advisory body was unable to provide event organisers with relevant documentation in time.
In a post to Facebook on Thursday night, event organisers from management group Kicks Entertainment said planning, risk assessment, insurance and legal framework documents were not provided by the Safety Testing Advisory Service at Festivals and Events (STA-SAFE), a collaborative body of health organisations who were behind the pill testing trial, in time for a festival licence application to be lodged with the federal National Capital Authority (NCA).
Due to the fact that the Spilt Milk festival is held at Commonwealth Park, which is land owned by the Federal Government, STA-SAFE needed to meet the NCA festival licence application deadline in order for pill testing to be approved and included as an aspect of the event.
"Since the ACT Government's progressive announcement that pill testing would be conducted by STA-SAFE at this year's Spilt Milk event, we have been awaiting STA-SAFE's operational plan, associated risk assessment, insurance and legal framework for their trialling of pill testing on federal land," the post said.
"With these items not yet received, and Spilt Milk just six weeks away, we had to submit 2017 event operation planning without STA-SAFE's pill testing to the NCA, the owner of the land on which Spilt Milk takes place. We had to do this to ensure everything necessary was in place for the event to take place on the 25th of November.
"Unfortunately, what this means is that pill testing is not able to be trialled at this year's event. We are hugely disappointed as Spilt Milk strongly supports pill testing as a harm minimisation measure, but we would be more disappointed for this hugely complicated and important issue to be handled incorrectly and result in a trial that doesn't institute change in Australia."
In September, it was confirmed that the ACT government had thrown its support behind the trial, with pills that were brought to the testing service expected to be examined by emergency consultant Dr David Caldicott and a team of chemists from the Australian National University (ANU).
On Thursday night, a spokesperson for the ACT Government told HuffPost Australia in a statement the absence of pill testing at the festival is "disappointing".
"This is a disappointing decision. The ACT Government, through the risk assessment process we undertook, determined that pill testing was appropriate to reduce the harm of individuals engaging in recreational drug use," the spokesperson said.
"This was the opportunity to hold the safest festival in Australia. We will be looking into whether we can provide any further information before any final decisions are made."
And while the trial was heralded as a win for harm reduction among festival patrons, Gino Vumbaca, the president and co-founder of Harm Reduction Australia -- the parent body behind STA-SAFE -- confirmed to HuffPost Australia that the advisory body had only been made aware by the NCA of additional documentation requirements on Wednesday, and then 24 hours later were told it had missed the deadline.
"We were asked for all that information yesterday. The promoter was asked to provide that to the NCA at short notice. We're still working on that documentation and still working on getting it altogether," Vumbaca said.
"We understand the pressures that are on the promoter to get approvals. We understand that the festival was in jeopardy without that documentation but the reality is that the NCA provided a very unrealistic time-frame for us to get that information to them."
"The ACT government is committed to pill testing at the festival, we're committed to doing it and so we'll do it -- if not at this [year's festival], the next one. It will happen."
Earlier on Thursday Ryan Phillips, the director of Kicks Entertainment, told Triple J's 'Hack' program that responsibility for the mix-up fell to STA-SAFE and that event organisers are still advocating for the trial to go ahead.
Despite this, comments from the ACT Shadow Minister for Health Vicki Dunne in August threw doubt over the future of the program after she said that she was uncertain on whether the Federal government would give its approval.
"There is serious doubt as to whether the government can or should be implementing pill testing," she told Parliament.
"The Spilt Milk festival is at Commonwealth Park, which is on Commonwealth land. Pill testing will need Commonwealth Government approval, and I doubt that they will give it."
HuffPost Australia has contacted the National Capital Authority for further comment on the matter.