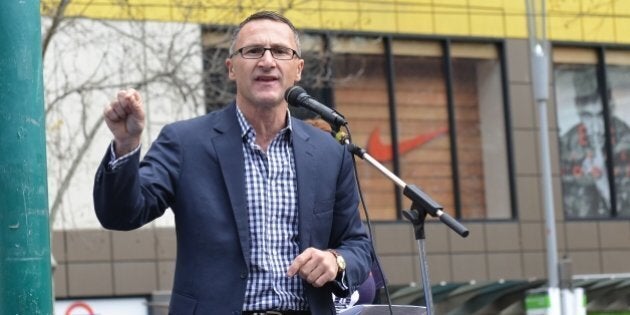 Federal Greens leader, Senator Richard Di Natale, has reiterated his calls for Australia to introduce testing of illicit drugs.
As Australia grapples with how to treat the nation's party drug problem, with young people dying or becoming hospitalised after adverse reactions to pills or powders at parties of festivals, calls for change are getting louder. Critics of current drug policy -- sniffer dogs, strip searches and the rest -- claim that a regime where partygoers could have their drugs tested and analysed before they take them would help people make better choices about their behaviour.
Di Natale, speaking in Melbourne on Monday, again outlined his calls for Australia to adopt a pill testing program so drug users know what they are about to ingest.
"We've got young people overdosing and dying, because they're taking substances of unknown quality and purity and the consequence is we're losing people. Why wouldn't we put in place a measure that prevents those young people from ingesting potentially harmful substances, and keeps them safe," Di Natale said.
"It makes perfect sense, it's the principle of harm minimisation here that we know works and it needs to be advanced through this public debate."
He equated such a pill testing regime with the legal injecting room in Sydney's Kings Cross and the successful needle exchange program, with both programs aiming to support safe drug use for people who might have otherwise taken drugs in an unsafe manner, not to promote the use of drugs.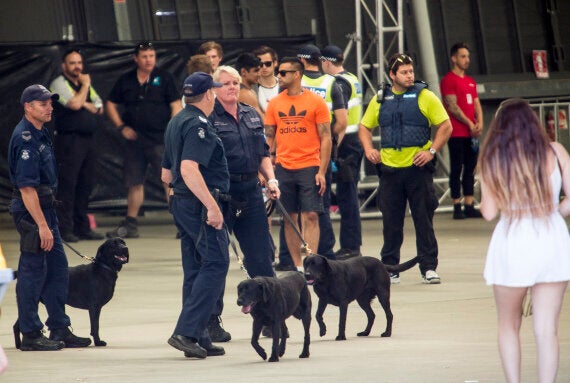 Police with sniffer dogs at Melbourne's Stereosonic Festival
"Needle and syringe exchange is very effective, a way of preventing the spread of blood borne viruses and a way of bringing people to a treatment centre where they can engage with health professionals and have access to treatment when they need it," Di Natale said.
"We're also having a conversation about pill testing. Now pill testing is harm minimisation just as needle and syringe exchange is harm minimisation. The NSW [Police] Minister says that pill testing won't happen under his watch and he uses the same old tired arguments that we use when needle and syringe exchange was first introduced into Australia. It's the same arguments, this nonsense that somehow it condones drug use. It doesn't. What it does is it prevents harm."
In 2015, the Australian Institute of Health and Welfare's National Drug Strategy Household Survey reported 27 percent of Australians aged 20-29 had used illicit drugs in the preceding 12 months, with eight percent having used ecstasy in that period. The 2014 United Nations World Drug Report found Australians had the highest rate of ecstasy consumption on Earth.
The deaths of young people Georgina Bartter, Sylvia Choi, Stefan Woodward in the last year have become the tragic shorthand for the consequences of illicit drug use, among several other music festival deaths believed to be related to drugs.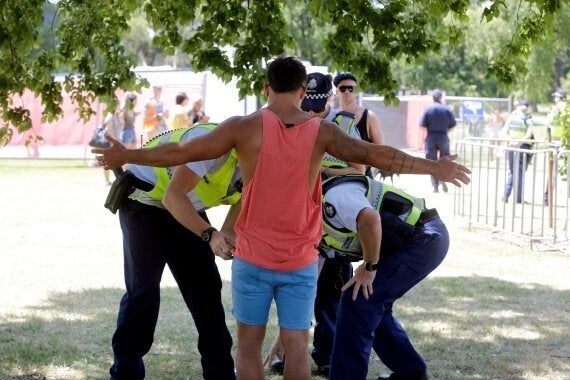 Police conduct a frisk search of a festival-goer
Speaking to HuffPost Australia after the press conference, Di Natale said such a pill testing regime would have to be legalised on a state-by-state basis, but he hoped the federal government could outline the case for pill testing in national guidelines and literature.
"Pill testing is a similar acknowledgement [to safe injecting rooms and needle exchange], that despite our best efforts some people will use illicit drugs. While they continue to do that, we as policy makers should ensure we minimise the harm of that use, and this is one way is to ensure the substances people ingest are not laced with toxic chemicals," Di Natale said.
"Ultimately it is a decision for state governments to implement, but there needs to be a very strong signal nationally that a nationwide pill testing regime and an overarching framework developed by the commonwealth, is something that would be useful. Through our national drug strategy, the importance of needle exchange is outlined; we should do the same for pill testing, which would send a strong message to state governments that they should look at these reforms."
Di Natale said he has been hosting roundtable forums around the country, and plans to again outline his calls at a federal parliament drug summit in March, but said such measures would not have the support of parliament yet and is therefore not planning an imminent introduction of legislation.
"If such legislation had the prospect of success, we'd look at introducing it. But given the nature of this debate, I'm very keen to start by working across the political divide to build consensus," he said.
ABC's Four Corners program will on Monday investigate the pill testing debate. In a special titled "Dying To Dance – inside the dance party drug scene," former AFP Commissioner Mick Palmer tells the program that current programs are not working. The program airs at 8.30pm AEDT.
Popular in the Community