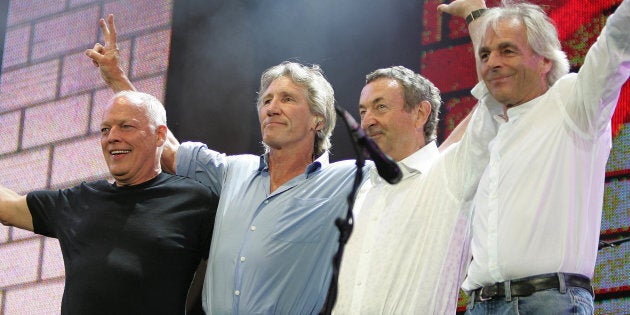 Can pigs fly?
Pink Floyd fans are hoping so after the possibility ― however remote ― was raised that the surviving members of the band could reunite for the Glastonbury Festival this summer.
"I don't think it is very likely but yes, I would do it given the opportunity," drummer Nick Mason said last week, according to The Guardian.
Mason was appearing with bassist/vocalist Roger Waters to help promote "The Pink Floyd Exhibition: Their Mortal Remains," an upcoming art show about the band at the Victoria and Albert Museum in London.
Waters didn't flatly reject the possibility, but he called the topic "boring."
"The last I heard, David retired," said Waters, referring to guitarist/vocalist David Gilmour.
"I heard he'd retired and then he seemed to unretire, so we don't know," Mason said.
Last year, Glastonbury founder Michael Eavis said he was going to "work on" bringing the surviving members of the band back together. However, Gilmour has repeatedly dismissed any possibility of a Pink Floyd reunion.
"Roger and I have outgrown each other, and it would be impossible for us to work together on any realistic basis," Gilmour told the Telegraph while promoting his 2015 solo album, "Rattle That Lock."
Pink Floyd went through a contentious and litigious divorce in the 1980s, with three members ― Mason, Gilmour and keyboardist Richard Wright ― eventually recording and touring under the name without Waters. They reunited for a single performance at the Live 8 benefit in 2005 (above), the first time all four had performed together since 1981.
Wright died three years later. Syd Barrett, a Pink Floyd cofounder who left the band in 1968, died in 2006.
Pink Floyd has since released a "final" album called "The Endless River," which features material recorded largely during 1990s sessions involving Gilmour, Mason and Wright. Waters was not involved.
Waters and Gilmour have joined each other on stage a couple of times, and Waters, Mason and Gilmour briefly shared the stage in 2011. The three have also issued a couple of joint statements. In 2013, they denounced the online music service Pandora for its campaign to cut royalty payments. And last year, the three issued a statement in the band's name in support of the Women of the Gaza Freedom Flotilla.
If the band decides to reunite for a concert, it should probably happen soon.
"We're all beginning to feel our age and may not be around for much longer," Mason warned last week, according to the Telegraph.
In the meantime, Waters has a new solo album coming out and will tour in support of it ― and his shows will no doubt include a number of tunes from the Pink Floyd catalog.