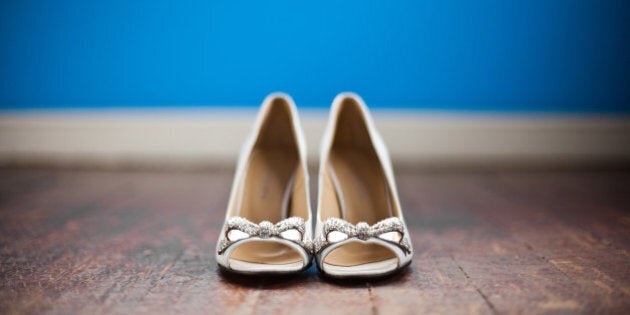 Nothing ruins romance quite like stress. Which is why ahead of your big day there are a few things to be wary of to ensure your wedding is the elegant, laid-back occasion you've always dreamed of.
"Depending on the fabrics, they could create a static situation which you don't want to worry about with minutes to spare. Take the time a week before to try everything on and make sure it's all harmonious," Teasdale said.
The same principle should be applied to your shoes.
"Want to wear glitter heels? I don't blame you, so did I -- but the fabric of my dress caught on anything but smooth leather so I had to let them go," Teasdale said.
In short, don't buy your shoes before the dress.
"Any big jewels or detailing could rip your hem to shreds, so wait until you've locked in your gown to find those heels," Teasdale said.
Also be mindful of timeframes when it comes to designer dresses and dresses that are custom made. It's also worth noting that veils are more expensive than most people assume, so factor headwear into your budget separate from the dress.
"Some boutiques will need around six to 12 months to turn a dress around," Teasdale said.
"This is an inexpensive way to add softness and a romantic mood to the room. If you are having candles, remember to always dim the main lights in the main reception area. Again, this creates a softer light to enhance the overall feeling," Hunt told HuffPost Australia.
And finally when it comes to the ceremony itself, Hunt's favourite saying is "Low and Slow" -- referring to holding the bouquet in line with your waist and walking slowly.
"So many times I see brides walking down the aisle with their bouquet up around their chest -- it should be at her waistline and she should be walking slowly to the tempo of the wedding music," Hunt said.