Video supplied by NSW Police
NSW drivers, you are on notice -- amidst an alarming spike in motorists testing positive to drugs, police have you in their sights.
Roadside drug testing kits will soon be rolled out across most of the state, vastly expanding NSW Police's current capabilities to test drivers for illicit drugs. Inspector Steve Blair, commander of the random drug testing unit, said of the 1900 roadside drug tests police administered to NSW drivers in June and July, one in six had returned positive readings for drugs including cannabis, amphetamines or ecstasy.
"Prior to this year, random drug testing was centralised out of our home command in [western Sydney]. We'd supply support all around the state, but it became inefficient. We've had a conscious effort to decentralise random drug testing, and give that capability to perform testing on a 24/7 basis," Blair said.
"There won't be drug testing capability in every single location in the state, but we will locate them in regional areas and population hubs so that highway patrol and general duties police can cover most of the state."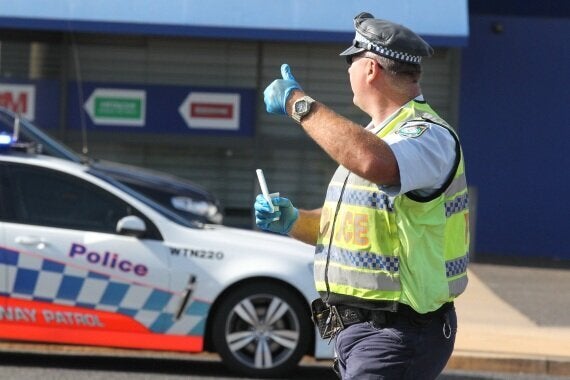 A NSW Police officer holding a drug testing swipe (Fairfax Media/Peter Rae)
Of the 36,000 drug tests police have administered to NSW drivers in 2015, Insp Blair said almost 12 percent returned positive readings; while an operation in the Shoalhaven, on the NSW south coast, over the weekend netted 27 drug-affected drivers. In August 2014, NSW Roads Minister Duncan Gay said 11 percent of fatalities on NSW roads involved motorists with illicit drugs in their system.
Blair would not confirm exactly how many drug testing units would operate in NSW, but said by 2017 there would be "quite a large number out there" that are "portable and can radiate through the state."
"For road safety, if you're involved in the drug scene, don't drive a motor vehicle. This is 100 percent road safety focused. We don't want anyone impaired by drugs behind the wheel," he said.
"It is purely a presence offence. In the roadside test, we're not saying you're impaired or off your face. The offence is simply a strict liability. If you have it in your system, that's it."
Blair said the units would operate similar to a random breath test for alcohol. Drivers will be submitted to a roadside test, where they will be asked to swipe a plastic strip across their tongue. The strip will shortly react if drugs are present in a person's saliva, and if a positive roadside reading is returned, drivers will be subjected to a secondary saliva test.
"If the first one returns a negative result, then off you go. But if it's positive, you're then placed under arrest to provide an oral fluid sample. We go back to the random drug testing bus or police station. If there is a positive indication on that secondary screening, then your driving privileges are taken away for 24 hours," Blair said.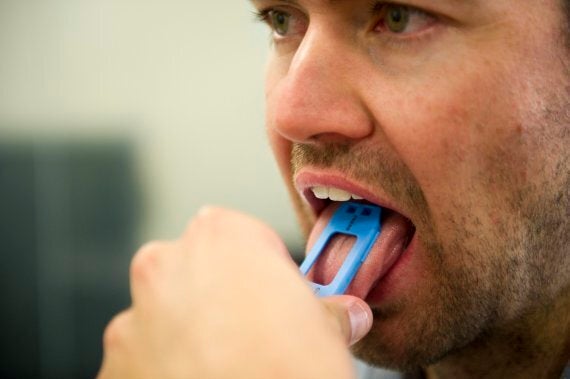 The tongue scraper testing kit in action (Fairfax Media/Jay Conran)
Blair said all samples from the secondary test are forensically tested in a laboratory, with legal action only taken if that forensic test returns a positive reading. Unlike drink driving offences however, where drivers on a full licence have a threshold of 0.05 blood alcohol concentration, there is no allowed limit for drugs. Blair said the fact drugs can sometimes remain in a person's system for several days after consumption should act as a further deterrent to drivers.
"Everyone's metabolism is different. The body builds up reserves of this stuff in there. We're not saying after two or three days it will be out of your system," he said.
Police claim drug driving offences are growing at an alarming rate, but the NSW Council for Civil Liberties does not support the further rollout of roadside drug testing technology. Stephen Blanks, president of the NSWCCL, said the strict liability offence was unfair to drivers.
"The testing only discloses prior drug usage, which may have no adverse impairment of driving ability. Cannabis can hang around in your system for days, maybe even a few weeks, but not have any impact on your ability to drive," he said.
"It is illegal to possess those drugs, but it's never been illegal to take them. It's a small point, but it's worth taking in mind."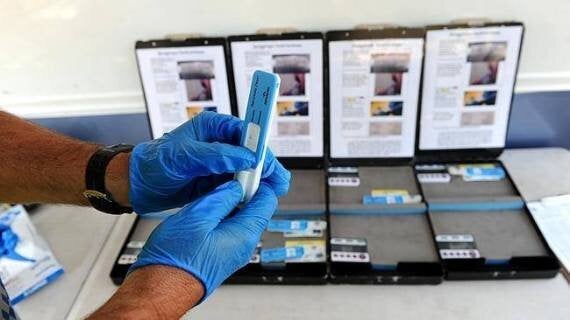 A look inside the testing kit (NSW Police/Supplied)
Blanks said the absence of any threshold for drug use -- such as the 0.05 BAC for alcohol -- was a major reservation he held about drug testing.
"With alcohol, there is a threshold below which it is recognised that usage doesn't impair ability to drive. With drug tests, there is absolute zero tolerance," he said.
"The problem of drug driving are issues probably not best dealt with through random testing. Perhaps it should be other ways, like driver education or better laws around drug usage or possession."
"Society would get a better outcome if we took a health and harm minimisation approach, rather than a law enforcement approach."