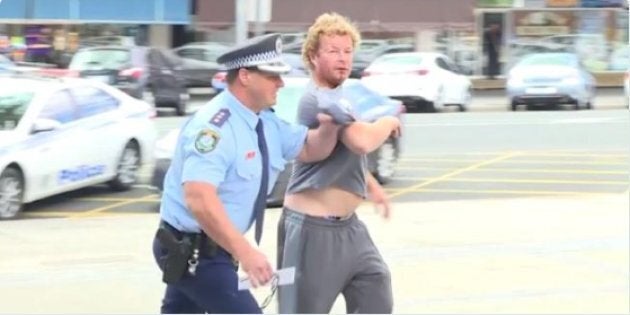 Video footage has emerged of the moment a drunken heckler received a serve of swift karma after swearing at a NSW Police officer who was conducting a media press conference outside the Albury Police Station on Monday.
Detective Inspector Winston Woodward had only just started providing a statement to a crowd of journalists and camera operators when a man holding a beer bottle yelled out "bulls---!" from the street behind him.
Woodward then calmly excused himself from the press conference before approaching the man and ordering him to pour the alcohol out of the beer bottle. He was then arrested on the spot for offensive language in public and dragged into the police station by the top cop.
The man seemed stunned by how quickly his plan had turned bad for himself, even remembering his manners and saying "excuse me!" when Woodward grabbed him by the shirt.
The entire altercation was caught by local news cameras that were in attendance at the press conference.
Maybe some things are just better left unsaid.
ALSO ON HUFFPOST AUSTRALIA