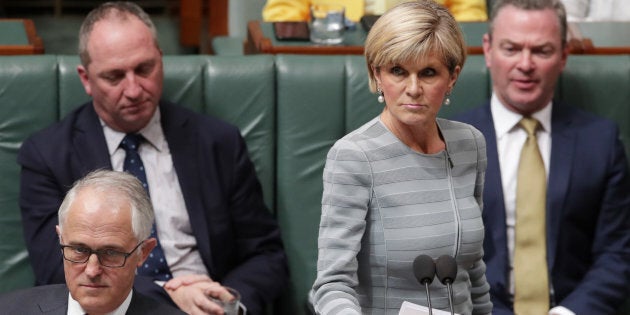 CANBERRA -- The Australian Labor Party has had a couple of absolute field days against the Government since Parliament resumed from the winter recess. They're having more and more of those, it seems.
The Turnbull Government has made itself look plainly ridiculous over its handling of Barnaby Joyce's dual citizenship and Labor has comfortably capitalised. Tony Burke said on Wednesday: "It is national joke day and they have delivered".
He's right. And they've delivered not just once but again and again.
'Farce' barely begins to describe how the Government handled the news of Joyce's New Zealand citizenship by descent and the ensuing suggestion of a diplomatic rift with Australia's closest friend.
Joyce has since, albeit belatedly, filed the requisite paperwork to denounce his New Zealand ties. But the High Court has still yet to decide whether his failure to do so before entering the Federal Parliament was a breach of the Constitution.
That administrative stuff-up plainly shows poor judgment from Joyce. But while the Deputy Prime Minister is owning his predicament with every sunken shoulder and sad gesture, his Government colleagues from the Prime Minister down have decided the best defence is offense.
A New Zealand Labour MP asked questions in his Parliament in a way that, according to Foreign Minister Julie Bishop, was clearly designed to undermine Joyce. The implication is that NZ Labour was tipped off by the ALP. And therefore, Bishop says, the Trans-Tasman relationship would be put at risk if Labour wins next month's New Zealand election.
She argued it was an unethical plot drawn up by opposition parties of Australia and New Zealand both conspiring to "steal government". After all the potential of ineligibility of Joyce would throw the Coalition, and its paper-thin majority in the Lower House, into chaos.
Bishop accused Labor's Penny Wong of being "up to her neck in" a bid to use the NZ Parliament to "orchestrate" an attack on Joyce and the ALP of violating the international "principle of non-intervention".
Burke asked Bishop: "Would the Minister for Foreign Affairs please tell the House some more about the evil, treacherous conspiracy she has exposed in this House, time and again?"
She responded: "Mr Speaker, the hubris of the Australian Labor Party on this issue is extraordinary. The Labor Party have breached the most fundamental international principle and they laugh about it?"
This ham-fisted attempt at deflection is politics as usual, and it is killing the Turnbull Government.
Meanwhile same-sex marriage is still illegal in Australia, the housing affordability crisis shows no sign of abating and the Government is constantly at odds with state leaders on energy and education.
Where is the simple, mature acceptance that a colleague who should have known better, may have made a critical error?
Where is a reasonable Government explanation of the difference between Joyce, who has remained in all his roles, and Nationals colleague Matt Canavan, who has stepped down from Ministerial roles while his High Court case is determined?
Members of political parties in various like-minded nations talk to each other all the time. UK Labour and Australian Labor. The Liberals and the Tories. The Liberals and the U.S. Republicans.
Instead of accepting responsibility for Joyce's misstep and moving forward, the Coalition's most senior figures are inflaming Australia's friendliest diplomatic relationship and laying brazen accusations of a "conspiracy" at the feet of political opponents in two countries.
Australians are being let down by the political system, the "us verses them" mentality in Australia's major political parties and the disappearance of mature political leadership.
Perhaps the High Court will rule in Barnaby Joyce's favour. Perhaps it will take a whole lot more to put the Australia/New Zealand relationship at risk. And Bishop may yet smooth things over with New Zealand Labour, should it win government next month.
But then perhaps national joke day will get a laughable extension.