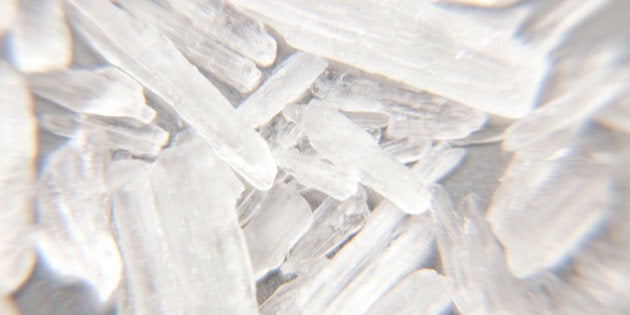 When you've looked in the eyes of desperate mothers and fathers; addicts determined to turn their lives around; police dealing with the crime, fights and prostitution every day; and emergency services workers being called out to users who have been awake for days without eating and are now hallucinating -- the reality and gravity of the situation of Australia's ice situation is impossible to ignore.
Ice is not some fairytale nightmare in some faraway land, it's on our streets, in our towns and our homes. The dealers are not imaginary demons and the users are not holograms; they're real -- our friend's children, our relatives, our families.
This year I've met with US Drug Tsar Michael Botticelli, many health or drug and alcohol Ministers including from New Zealand and Germany, countless health and emergency workers, police, drug and alcohol counsellors; visited many rehabilitation facilities, and travelled more than 30,000 kilometres holding open ice forums in 13 rural and regional locations, meeting many hundreds of people.
In an inland NSW town, I was told a tragic story of a brother and sister who both suicided after becoming hooked on ice.
In a coastal rural town, a grandfather openly wept in front of a crowd of more than 100 as he told of his grandchildren walking into their mother's bedroom to be taken to school only to find her dead. Of them prodding and shaking her to no avail. The grandfather shook as he paced the floor, microphone in one hand, his other alternating between wiping the sweat from his brow and the tears from his eyes.
One addict said the moments of clarity (or 'windows') in which she would commit to getting clean would last only a few hours and there were not beds available. Hours later she would change her mind. The young woman could only hold an individual thread of thought for a matter of seconds as the drug had seemingly destroyed her focus (though the neural pathways destroyed by ice use will grow back, given time).
In one rehabilitation facility I visited, I met a bright, insightful woman with a captivating turn of phrase, who had prostituted herself for the drug for years. She explained how initially the drug had helped her have a life she had only dreamed of by allowing her to be outgoing and entertaining, but later "turned on me" and caused horrific delusions and psychosis. Some of her teeth turned black and rotted.
Sitting at the same table was a former brand director of one of Australia's most recognised companies. The educated, composed, articulate, formerly wealthy man had taken ice for years before finally becoming hooked (a common pattern among those who've become addicted). Then he'd used until he ran out of money -- having presumably started with quite a bit of it.
I met a 30-ish-year-old gay man, a "privileged white male" as he cheekily described himself, who contracted HIV whilst engaging in risky sexual behaviour high on ice.
I met a former high flyer from Sydney's north shore, who'd been a prominent member of a prominent business group. He had used the drug as a "temporary" measure when a business partner was unable to work and soon ended up awake for weeks, dealing to support his habit and finally in jail.
It's worth noting, keeping a person in prison for a year costs a taxpayer upwards of $135,000. Residential rehabilitation costs the taxpayer about $50,000 a year, and other forms of rehabilitation cost less again. States have traditionally been deliverers of front line services such as hospitals, ambulances and rehabilitation.
Beating ice will be a long, hard slog. It will require a multi-pronged approach and help from all sections of the community.
Of course there will be those who argue for any of the extremes -- for example, locking dealers up forever or pulling all money from law enforcement to put into rehabilitation. Neither of those things will end Australia's ice problem. What is required is a considered, sensible response to this issue. We've invested heavily in addressing supply and will continue to. Now it is time to focus on reducing demand, and this is one of the key findings from the National Ice Taskforce report.
As I've said from the very beginning of the National Ice Taskforce process, government can't beat ice on its own. Ice is a problem across the entire community, and the entire community has a role to play. That said, the federal government is ready and willing to do all it can.
We've invested heavily in policing, some $1.7 billion annually for law enforcement and criminal justice across all Australian governments. Law enforcement agencies have "enhanced cooperation and collaboration" in recent years, the Taskforce says.
Police made record busts and arrests in 2013-14, charging 26,000 people with possession or supply. The Australian Crime Commission alone pulled almost $2 billion worth of ice off the street in 2014-15 and disrupted 54 criminal entities.
However, the purity of the drug tripled from 2010-13 and ice remains easy to access and the price stable. Goodness only knows how much worse the problem would be without policing.
Our response to ice has to evolve with the times and the way to break the ice dealer's model is to cripple demand. As the Taskforce says, the dealers are easily replaceable and the ice rings are international, well resourced, and incredibly agile.
Our response deals with that reality and help cripple the ice dealer's model by reducing demand for their despicable product. It will also give parents, families and friends of users somewhere to take their loved ones who desperately need help.
We will inject almost $300 million over four years to improve treatment, aftercare, education, prevention, support and community engagement to tackle ice. The package includes:
• $241.5 million to be invested through the 31 Primary Health Networks (PHNs), which will use their local knowledge to boost the alcohol and other drug treatment sector and reduce demand for ice. Given PHNs are heavily involved in the mental health sector, distributing the funding this way provides a vital new link between the mental health and drug and alcohol treatment sectors.
• An additional $13 million to introduce new Medicare items for Addiction Medicine Specialists to increase the availability of treatment and counselling.
• An additional $24.9 million to help families and communities by providing the resources, information and support they need to respond to ice.
We'll invest $19.2 million into 220 local community drug action teams, to help with vital coordination of resources for both users and families which has been lacking in some communities. Groups may also choose to hold community forums. This measure will support and educate families, young people and users from within their own communities.
It is important that local communities have the opportunity to develop their own response because local leaders have the knowledge and experience to target action to where it will be most effective. Local coordination is key -- so many times at local ice forums, organisations and individuals working in the same fields did not even know of each other's existence.
The Life Education Van, which already visits 600,000 upper primary school aged students every year, will receive an extra $450,000 to educate children about the dangers of ice. Given the van is already operational, a relatively small investment can make a big difference here.
Similarly, the Good Sports programme, which already promotes responsible consumption of alcohol in 7000 sporting clubs, will receive an extra $4.6 million over four years to expand the programme and take the message about ice to those clubs.
Extending the Good Sports Programme to educate about ice will help convince young people not to try the drug, through learning about it from peers in an environment they trust.
Doctors and alcohol and drug treatment services will also receive updated information and guidelines on how to deal with issues around ice addiction, a $472,000 investment.
If we can reduce the market by helping the biggest clients give up their habit, demand will drop. If we can educate our children not to ever try ice, there will be less young people coming into the ice market to replace those exiting it.
Credible studies suggest improved aftercare -- ongoing counselling and meetings for recovering addicts who have completed rehabilitation programmes -- could be an important key to keeping those users off the drug and out of the drug market.
Of course, different treatment is appropriate for different people and different levels of addiction, which is why we're having the local Primary Health Networks decide which method of treatment is best for their area -- enlisting local knowledge instead of Canberra ivory-tower policy.
Senator Fiona Nash is the Minister responsible for drug and alcohol policy.