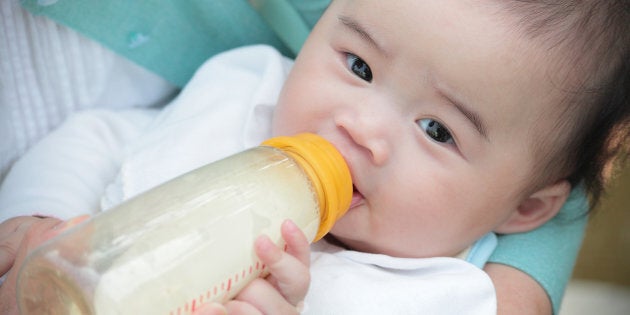 Illegal and potentially dangerous nanoparticles have been found in some Australian baby formulas, a national environmental group says.
Friends of the Earth (FoE) said on Sunday that a new study had found two off-the-shelf baby formula products -- Nestle's NAN HA 1 Gold and Nature's Way Kids Smart 1 -- contained needle-shaped hydroxyapatite nanoparticles.
The environmental advocacy group said the nanoparticles uncovered in some products as a result of the study were "both illegal in Australia and potentially dangerous", and urged a recall of impacted formula.
Two other samples tested contained nano-calcite, which was also not permitted in baby formula in Australia, FoE said.
"If it's dangerous in toothpaste, it should certainly not be in infant formula," FoE's Jeremy Tager added.
"Babies are particularly vulnerable to food safety risks since their immune systems are still developing. Often infant formula is the only food an infant receives. Food Standards Australia New Zealand (FSANZ) needs to immediately recall these products.
"Friends of the Earth is not only concerned about the presence of nano-hydroxyapatite and nano-calcite in baby formula, but also about the performance of our food regulator FSANZ," adding that the agency was "deeply compromised by its close relations with big food multinationals".
A team in nanotechnology from Arizona State University undertook the testing, which was commissioned by FoE.
Manufacturers are said to use hydroxyapatite nanoparticles to regulate acidity in some foods, and as a dietary supplement.
While the FoE study raises concern, other recent studies suggest "hydroxyapatite nanoparticles in formula are most likely safe".
Responding to the study, Nestle said all of its products were safe to consume and complied with FSANZ regulations.
"The quality and safety of our products are non-negotiable priorities for our company," a Nestle spokeswoman told HuffPost Australia.
"We only release infant formula batches for sale after extensive testing in our factory to ensure that they meet our own high quality standards and comply with all relevant food safety laws and regulations.
"NAN HA Gold 1 was deleted from our range in early 2016. This was not related to safety or quality ... there is no safety risk related to the presence of nanoparticles in infant formula."
Nature's Way has also been sought for comment.
ALSO ON HUFFPOST AUSTRALIA