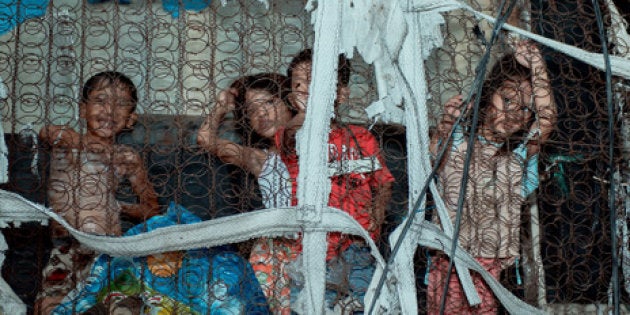 Improvements in daily life in Manila are evident. Billions of dollars are being invested; there's cranes on the skyline, international visits are increasing, and Filipinos, at least in Manila, are happy. Most see a bright future; the Philippines is poised for economic prosperity, albeit from a very low base.
The majority are happy with the efforts of President Duterte, and see the western media's portrayal of drug traffickers shot in the streets as 'fake news'; or in a conciliatory tone exaggerated for a western news audience.
However, scratch a little below the surface and many of the problems that have plagued Manila for the past two decades remain unresolved.
The biggest problem facing Filipinos remains poverty and homelessness in Manila's vast slums. You only have to drive a few kilometres outside the thriving Manila metropolis to suburban Tondo to be struck by the sheer hopelessness facing hundreds of thousands of Filipinos.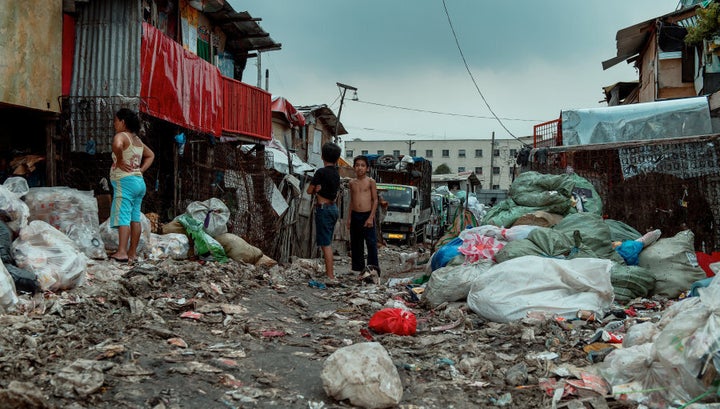 More than 600,000 people live in Manila's slum district of Tondo; and NGOs say Tondo has not improved in the 12 months since President Duterte's landslide victory.
Poverty, severe malnutrition and disease is an everyday reality for the residents living within the putrid slum areas.
"Deaths from disease and malnutrition far outweigh the so-called extra-judicial shootings of people involved in drugs," says one NGO.
Alan Niewald, founder of Las Vegas based US non profit Kilos Bayanihan, says the problem at Tondo is magnified at Happyland and has become a multi-generational trap:
"Education is extremely important in the Philippines but most children do not attend school because the parents have to choose whether to feed their children or send them to school then possibly not have enough food to feed them. It's a tough decision.

There is a decided lack of opportunity to improve their lives. There should be more livelihood or community training programs available. There is also the age restrictions that most employers have. This also makes it harder to find a job. Most of the homeless are usually from the province that come to Manila to try and find a better life but end up homeless."
The worst of the conditions can be found at Tondo's 'Happyland' BRGY105 where the population has grown from around 3,500 in 2006 to more than 12,000 today.
Happyland is literally built around a dump, or many dumps -- each day people wade through the rubbish looking for anything of value. Tons of chicken scraps are collected from takeaway's garbage bins then recycled by boiling. It's called 'pagpag', and it's sold to hungry families in the slums for a few pesos.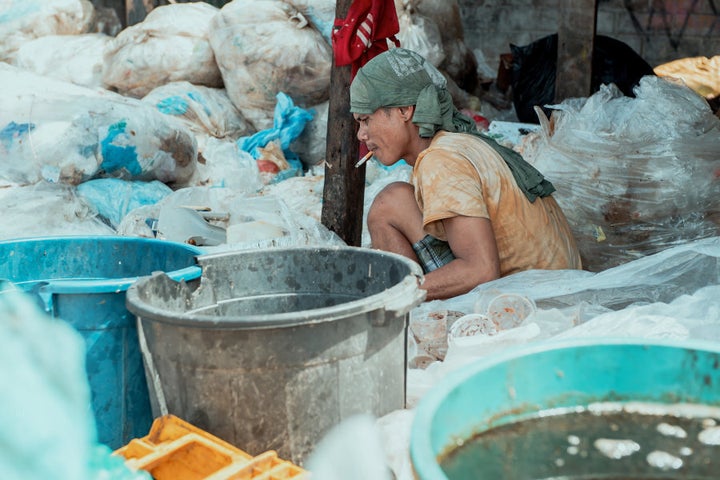 The stench, heat and storms create a toxic combination of disease -- and inadequate government health services mean the people of Tondo's worst slum just get sicker and sicker.
Some people, like Rosemarie's family, have lived in the slums of Tondo all their lives. She has five children, all boys aged between 10 and 20 years old. She has two adoring dogs and a turtle. Her husband Gerry is a casual construction worker. He desperately wants full-time work but all the work he is offered is casual.
The family live in a one room shack in the corridors of Happyland. There is no bathroom. It has two converted bedrooms within the shack literally stacked atop of each other. There is no privacy.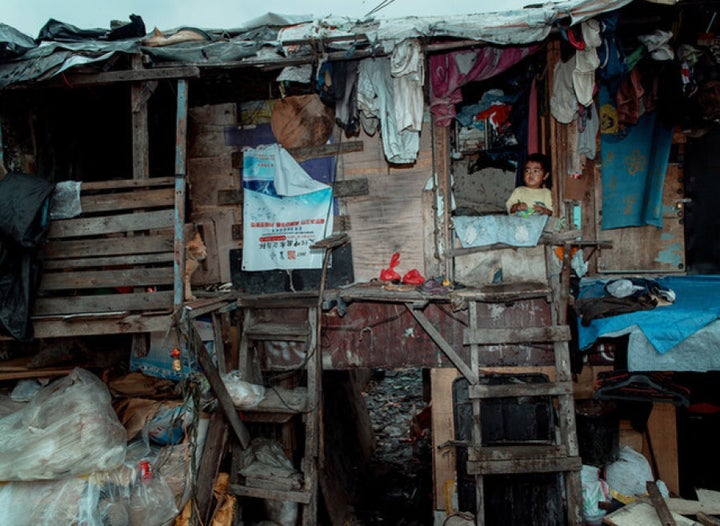 Through an interpreter, Rosemarie, 41, who also works for several NGOs to help others in her community, says they are trapped.
"It's a cycle of poverty that won't let go. My parents lived in the slums of Tondo, now so do I and my children. We want things to change, but my husband can't find work and we only earn 4500 pesos a month (approximately USD $89) to school and feed my entire family."
But Rosemarie sees hope, like many people living at Happyland.
"All my children go to school, it could be their way out of Happyland."
Niewald says the cycle of poverty is hard to break without opportunity.
"Imagine a child being born to a mother who is, say, 15 years old, that lives in the slums and has no education. She does not have enough money to send them to school. That child gets pregnant at 13 or 14 years old. She is now in the same situation as her mother was. The cycle just keeps repeating itself.

One of my favorite quotes about poverty: Poverty is not a lack of character. It's a lack of money and opportunity. It's when society turns its back on you and makes you invisible -- that literally sums up the situation in Happyland."
Niewald says that the Duterte Government has turned its back on those that need the most help.
"I don't see anything being done by Duterte to change anything in his first year."
He adds international NGOs that want to make a difference and can provide assistance without government interference.
Kilos Bayanihan and its on the ground community volunteer Arlene Silao, a trained nurse, deals daily with undernourished people, sickness and disease. But, diligently she runs her daily feeding programs to give the struggling mothers and their children something to look forward to in their world of misery. She encourages the mothers not to give up hope and the children to smile despite their disadvantages.
"We never give up. We keep fighting for their future and their lives," she says as she spoon feeds a severely undernourished child.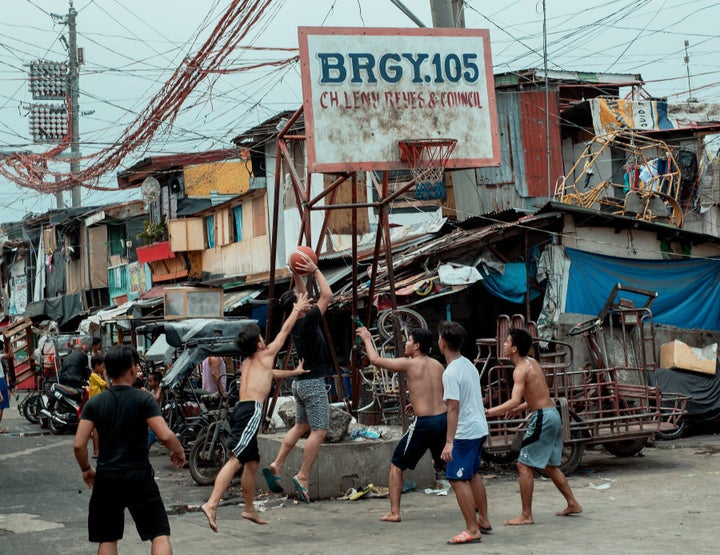 On the eve of his first anniversary Duterte declared he wanted to give every Filipino "comfortable life for all". But Duterte should try telling that to the forgotten people of Happyland, who live a daily nightmare.
In the meantime, Rosemarie and her family, with the help of NGOs like Kilos Bayanihan, will continue their struggle and she will continue to help people even less fortunate than herself.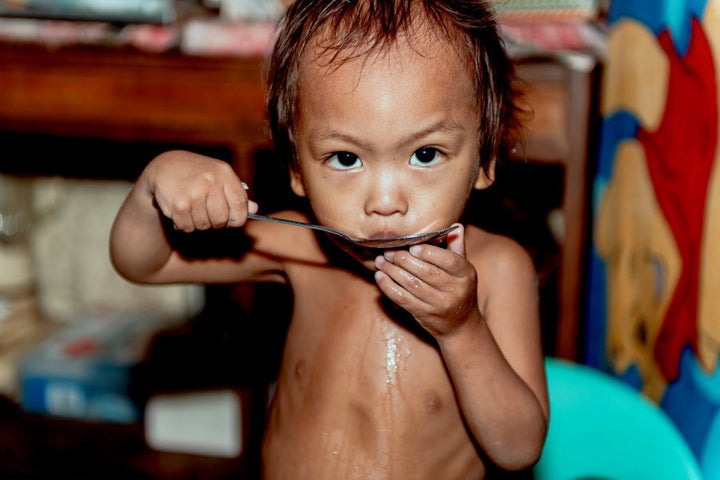 ____________________________
Ted McDonnell is currently working on a book called "A Life In Happyland" -- all proceeds will be donated to NGOs working in Happyland.
ALSO ON HUFFPOST AUSTRALIA