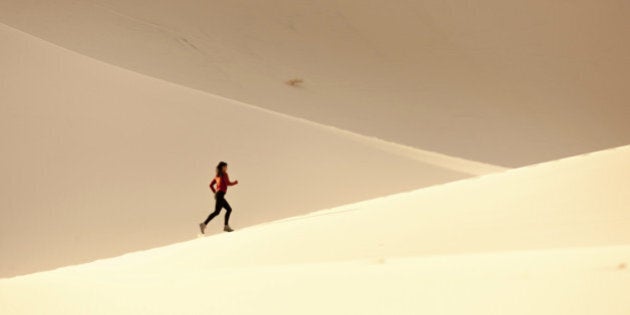 We are using water at an unsustainable rate. By 2030, experts predict that global demand for water will be 40 percent greater than supply. We cannot continue to use water in the same way that our parents and grandparents did. It's a huge problem, but it's solvable.
Only 0.007 percent of the planet's water is available to fuel and feed its 6.8 billion people, as almost all water is unsafe or unavailable for use. By 2025, 1.8 billion people, almost a third of the world's population, will experience absolute water scarcity.
How much water does each of us consume on average each day? Well, I drink around 3 litres; the average shower head uses around 21 litres per minute, so a 10-minute shower would be 210 litres; a couple of litres for brushing my teeth, washing my hands -- that takes me to around 215 litres in total.
Each time you drink a cup of coffee, that's 140 litres. A cheeseburger: 2,628 litres. That new pair of leather shoes: 8,000 litres.
The numbers are staggering.
I founded Thirst in 2012 to educate consumers about the amount of water they consume on a daily basis. Through education and engagement, each of us can begin to understand our impact on this planet's limited water supplies and we can make small changes that greatly reduce it.
To really make a difference, water saving needs to become the norm. Our grassroots community is pioneering a new way of understanding and taking responsibility for our water usage, and the next step is for us to tell the world.
That's why I'm running 40 marathons across 7 deserts on 7 continents in 7 weeks.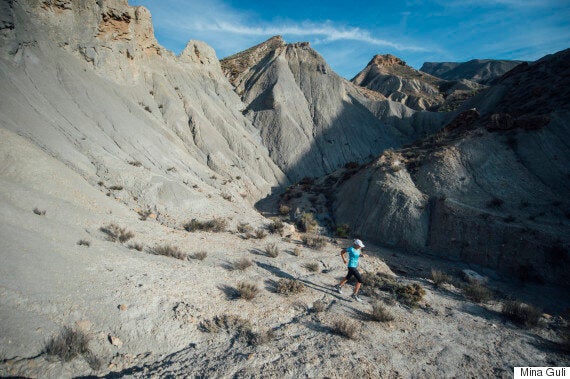 Mina Guli running in Spain
Why 40 marathons? To represent the fact that, by 2030, global water demand will be 40 percent greater than supply?
Why deserts? To highlight the environmental consequences of over-consumption of water and how it impacts local people.
Why 7 continents? Because this problem is not isolated to one country or continent. It is in every one of our backyards.
Facing blistering heat (with temperatures soaring up to 45°C ) and biting cold (sub-zero conditions as low as -23°C) and all manner of deadly creepy crawlies, I am putting my life on the line for a cause I am truly passionate about, in order to make people stop and think.
As I undertake this monumental challenge to experience and document the grassroots effects of water shortages across the globe, I hope to raise awareness of the water crisis and inspire the next generation to believe they can make a difference by pledging to do just one thing each day to reduce their water consumption. Small steps. Each day. Because every drop counts.
We are aiming to reach one million pledges and save one billion litres of water. Will you join us and pledge to become a Water Hero?
To find out more about Mina's challenge and to pledge your support, visit www.Thirstforwater.org and keep up to date by following @Thirst4Water using #Run4Water.
Popular in the Community