Meghan Markle wore a green crewneck dress by Italian brand P.A.R.O.S.H. for her first interview as Prince Harry's fiancée.
The couple revealed how Harry ensured that his mother's presence would be felt throughout their wedding preparations, as they chatted to the BBC's Mishal Hussein, hours after announcing Harry had proposed to the 'Suits' actress earlier this month.
"The [engagement] ring is yellow gold because that's her [Markle's] favourite," he explained.
"And the main stone itself I sourced from Botswana and the little diamonds either side are from my mother's jewellery collection to make sure that she's with us on this - on this crazy journey together."
Markle added: "It's beautiful, and he designed it, it's incredible."
And Harry stopped things from becoming overly emotional by quipping: "Yeah, make sure it stays on that finger."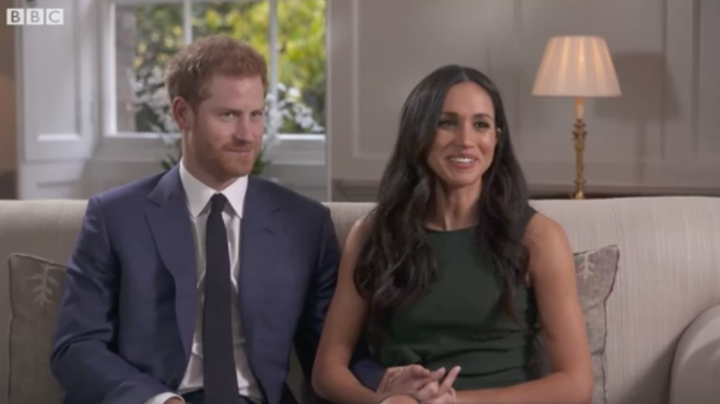 Markle said that the touching tribute to her future husband's mother meant a lot to her.
"I think everything about Harry's thoughtfulness is - and the inclusion of that and obviously not being able to meet his mum it's so important to me to, to know that she's a part of this with us - it's incredibly special," she said.
"And you know to be able to have this which sort of links where you come from and Botswana which is important to us and it's - it's perfect."
Harry added that on "days like today" he "really missed" his mother, as he wished he could share the happy news with her.
"But you know with the ring and with everything else that's going on I'm sure she's with us yeah, you know, jumping up and down somewhere else."
Markle's bow detail sleeveless Lachi dress is no longer available to buy online, just like the white coat by Canadian brand In The Line, which she wrapped up in earlier in the day.