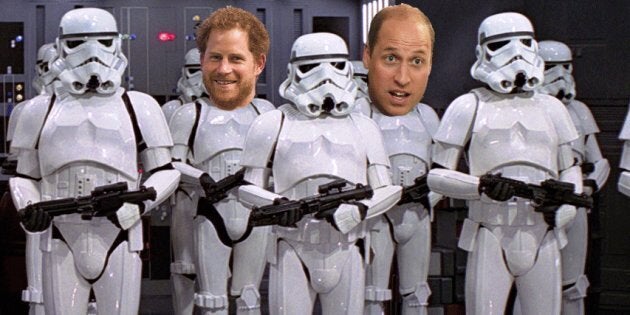 A long, long time ago in a galaxy far, far away.... or, well in August of 2016 to be precise Prince Harry and Prince William stopped by the sets of 'The Force Awakens' and 'Rogue One'.
The pair got a few photos and got to meet Luke Skywalker and play with lightsabers, it was a very, very cute photo op.
Then, about a year later one of the stars of 'Star Wars: The Last Jedi', John Boyega, revealed that while visiting Pinewood Studios, the royal pair actually shot a cameo for the film which heads to cinemas this December.
If that wasn't big enough news already it turns out the Princes were joined in their brief movie appearance by Take That singer Gary Barlow and actor Tom Hardy all in the same scene.
Unfortunately they might be a little difficult to spot since they'll be all decked out in their Stormtrooper best.
Boyega revealed during one of 'The Hollywood Reporter's Actor Roundtable that the awesome foursome looked like a "strange contrast of a weird family," adding "It's the best of both worlds for me".
This isn't the first time the Star Wars universe has included a famous cameo, with Simon Pegg revealing James Bond himself, Daniel Craig, briefly appeared in 'The Force Awakens'.
While the four fellas may not have much to do decked up in their Stormtrooper outfits, Craig's role was a little more robust as he starred alongside Daisey Ridley's character Rey when she first learns to use her Jedi mind trick.
Perhaps the princes were able to use a Jedi mind trick of their own to get a speaking part. Unfortunately we'll have to wait until the film is released on December 15 to find out.