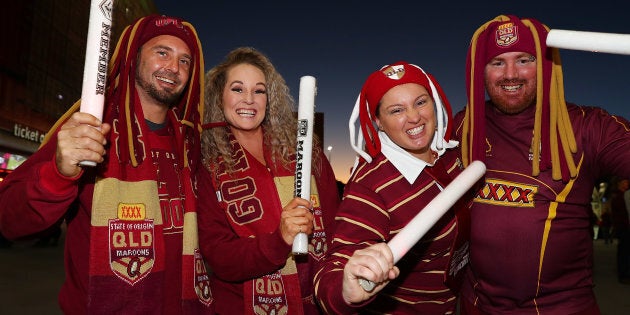 You've got to hand it to Queenslanders. They've got a great sense of humour. Example: They actually think Bundaberg rum tastes nice. Ha!
Seriously though, Queenslanders deserve credit for being able to take a joke. After all, how many years did they put up with Sir Joh Bjelke-Petersen? Ha!
OK, now for a genuine compliment without a snarky punchline. You actually really, really do have to hand it to Queenslanders, and the reason we say that is they've embraced a song which was made to ridicule them -- and turned it into a much-loved de facto state anthem.
We speak of the song "That's in Queensland" by rugby league satirist Denis Carnahan. The song cleverly parodies the way rugby league selectors have plucked players from pretty much everywhere (that is or isn't Queensland), and somehow qualified them to play in the maroon jumper at Origin time.
"Queenslanders love the song so much that they've used it for their own rugby league show on Fox Sports," Carnahan told HuffPost Australia on the eve of game one of the 2017 State of Origin series.
The comments on the YouTube video say it all. "I'm a Queenslander and I thought it was hilarious," reads one.
"Same, couldn't stop laughing," agrees a second banana-bender.
Carnahan told us that his song has popped up in all sorts of unusual places. For example, during a recent flooding event, Queensland Fire and Emergency Services put it on their Facebook page with a message saying "we all need a laugh, this will keep your spirits up, folks".
But Carnahan really knew he'd cut through when he performed the song in Brisbane one time, and for his efforts, he received a "Certificate of Queenslandership" from Queensland MP Stirling Hinchliffe.
"He declared me an honorary Queenslander for identifying that Queensland isn't just arbitrary lines on a map but is in fact on a higher existential plane."
Perhaps it is. Perhaps it really is. Whatever the case, this New South Welshman respects them for their good grace and sense of humour.
ALSO ON HUFFPOST AUSTRALIA