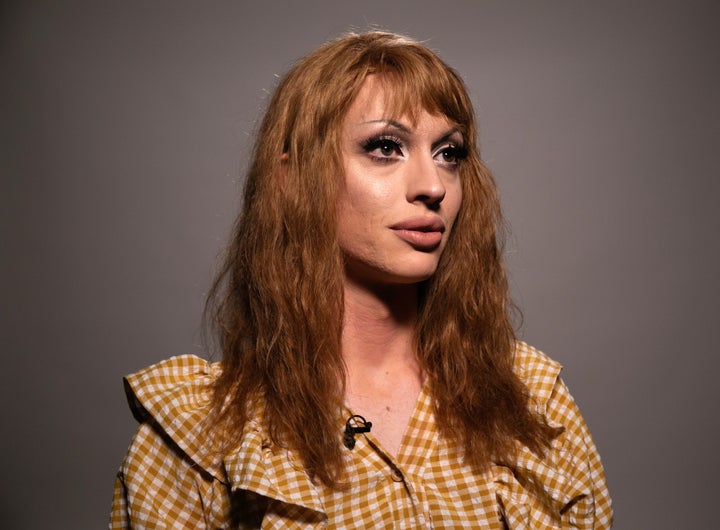 "It can be challenging growing up in the country, realising you're queer but feeling like you're isolated from anyone else that is also queer," performer and event curator Chloe London tells me. "I had this internal conflict with the external ― wanting to be feminine but looking and being read as masculine."
London, also known as her stage persona Sunday Best, has arrived at our Sydney office to talk about her journey as a trans woman.
Immaculately dressed in, quite literally, her Sunday best ― a prairie dress in polka dot paired with beautiful silk gloves ― London is as kind as she is pretty as we walk down the office halls and into the studio.
"I've been on hormone replacement therapy for just under a year," she explained as we mic her up.
"For trans women, suddenly going through having all this estrogen in your body when you never have before is extreme," she said, adding that she recently completely lost her appetite: "I'd feel nauseous."
London explained that it's challenging when doctors tell her there's no solution to having physical ailments, as that is just part and parcel to "the journey."
"There can be a lot of negative elements to transition," she said to me while staring down the barrel of the camera. "As I continue to live publicly as a trans woman who's transitioning, I've lost a lot of friends. But I've gained a lot.
"When we don't align with something personally, I guess we don't want to hang around it ― it's disappointing sometimes."
But negativity is not something London dwells on.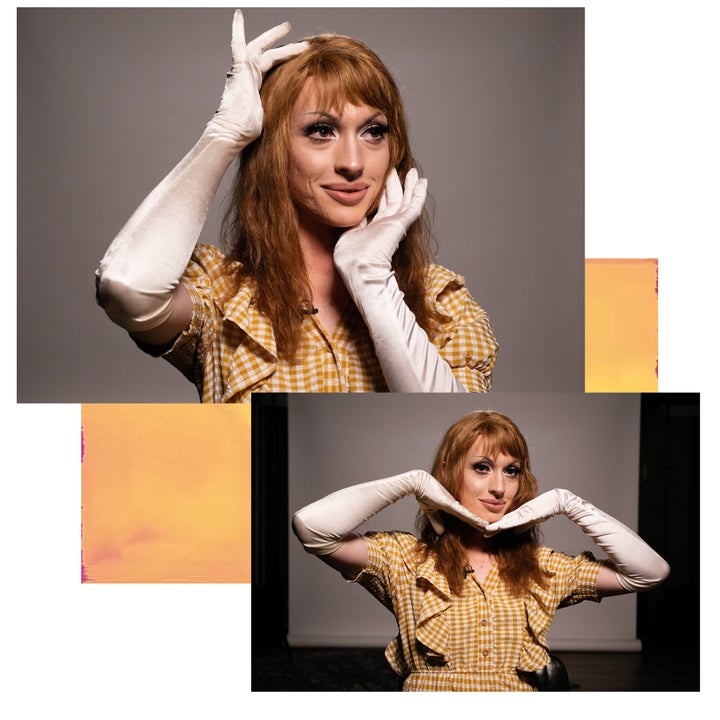 Hailing from Coffs Harbour in northern New South Wales, she grew up twirling around picturesque paddocks in the bush "wearing dresses and headpieces."
"I think I was always doing drag or dressing in a feminine way," she remembered.
Attending a religious high school, the bullying started in grade nine. London said she felt unsupported by her conservative teachers and eventually moved to a senior college: "I thought 'Well, I guess I have to leave and start again,' and that's a common experience for queer people."
Someone who was supportive was her mum.
"My experience of coming out to my mum when I was 15, originally as bisexual, and later as gay ― it was very dramatic. Looking back I think it was way too dramatic," London laughed.
"I told her, 'Mum, I am bisexual,' and slammed the door and sulked in bed. We didn't really talk properly for two days."
""I told her, 'Mum, I am bisexual,' and slammed the door and sulked in bed. We didn't really talk properly for two days."
London said her mum admitted at the time it was uncharted territory for her, but pledged to "learn more and research" the LGBTQI space, much to London's relief.
"There was that fear that I wouldn't be accepted but she came round and did her best," she said.
After moving from a rural town, London tried her luck in Brisbane, which she found to be, well, just a big country town with a weak support system for queer people ― a sentiment I understand after spending the first 22 years of my own life in Queensland.
"No shade on Brisbane," we both giggled.
But Sydney was calling her name.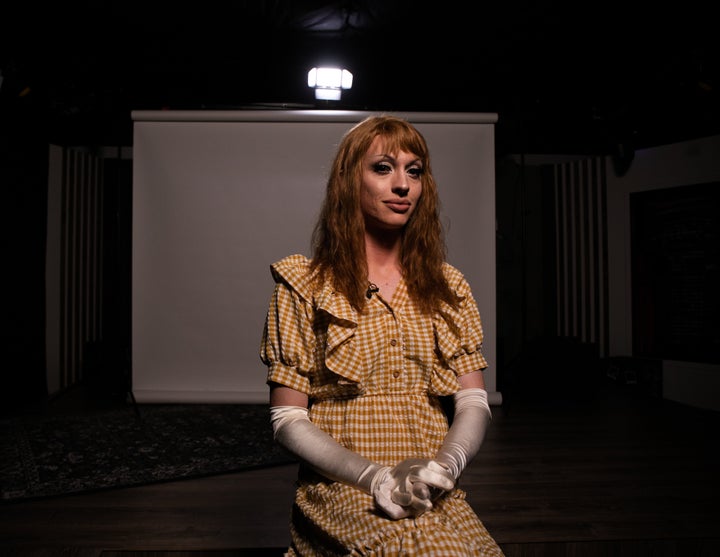 "Not long after I started doing drag (in Sydney), I discovered online people were gender non-conformative or non-binary and I started to identify as non-binary," she said. She added that she shares a lot of her experiences online to help others who may be going through a similar journey, as well as to help herself.
"I felt like I had to keep saying, 'I am trans, I am evolving'; I had to keep posting about my journey."
London has carved a niche as an astrologer drag queen with her Going Zodiac event on Sydney's Oxford Street. And while existing prominently in queer spaces as a trans woman is important to London, she said it's not always easy.
"My experience of gender and womanhood is probably a little bit alternative," she said. "In terms of sexuality, I am still working that out. I am bi-romantic, bi-sexual, pansexual. I just like people that I click with."
She added, "I believe we can manifest our destinies and choose who we want to be and fight for that person."
You can see London, AKA Sunday Best, at Going Zodiac and Honcho Disco at Sydney Imperial Hotel Erskineville throughout the Mardi Gras program.