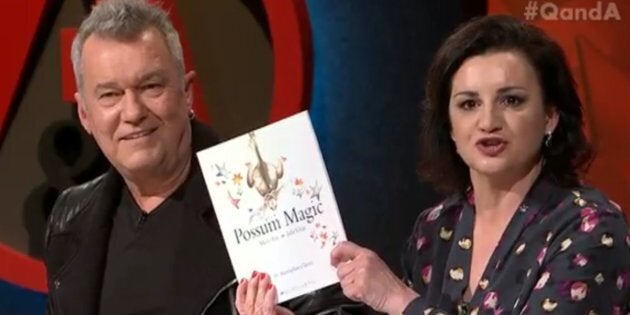 Jacqui Lambie has let loose on a Q&A panel discussing copyright reforms, slamming the Productivity Commission for recommending copyright periods be slashed from 70 to 15 years.
When the issue was raised on Monday night's Q&A, singer Jimmy Barnes and actor Magda Szubanski were expected to voice their loudest personal concerns (which they did), but it was Lambie who raised the strongest objection.
And she had the assistance of a family favourite -- children's book, Possum Magic.
"I will make it very quick. This is Possum magic. Meet Hush, the possum. Where else can Australians write about Vegemite sandwiches, lamingtons, pavlova and pumpkin-bloody-scones. Only an Australian can do that one," said Lambie, turning to the Coalition's Fiona Nash.
"So you know what, your Productivity Commission, that's crap. It shouldn't have got there in the first place."
The slamming was greeted with applause and even a chuckle from Senator Nash herself (which you can watch in the below video).
The panel, which included Shadow Arts Minister Tony Burke, Barnes, Szubanski, Nash and Lambie, discussed everything from the looming marriage equality plebiscite bill and offshore processing to domestic violence and hate speech -- where Lambie this time lashed out at Hanson.
But the debate ended with the question put to the panel by singer Josh Pyke about the possible repealing of copyright laws which tied the entire night together.
The Productivity Commission's draft report into intellectual property was released in April and the final report is set to be handed to the Government later this month. Communications Minister Mitch Fifield has said the Government has no plans to repeal the life of copyright.
"This is not something the Government has considered, proposed or intends to do," he said in a statement in May.
Szubanski, who published a memoir highlighting her struggles with her sexuality as a child, said words and storytelling have never been more important.
"I can't feel anything other than violated," Szubanski told the audience.
"I spent eight years writing that book and it required me, as it would have with Jimmy, to recall and re-feel very painful things. You know why I did it? Because I hoped it would help someone else.
"I used to work in a women's refuge when I was younger. It ain't just working class people. It ain't just happening in working class families. It is everywhere. And it's because we use our fists instead of words.
"If I have any gift that I hope I can give to this country, it's an ability to use words and to be more, to have more mastery of emotions.
"The home-grown stories are the ones that people most strongly relate to, because it is exactly their lives. It's happening here in Australia. So I feel very strongly about it."
Nash confirmed the government had not yet received the productivity commission's final report but would remain consultative, hinting the recommendations will not be adopted easily.
Barnes spoke poignantly about domestic violence, after his sister was beaten by her husband on their wedding night.
The Aussie rock icon, who released his memoir on Monday, said education and social reform around domestic violence needs to begin earlier than in teenage years.
"I've heard people say, with domestic violence, 'take men when they're 17 to a camp and teach them about how important women's rights are and how to be right to each other'. You have to do that at two years old. It doesn't start at 17. By then it's way too late," Barnes said.
As Szubanski made her point to introduce same-sex marriage through a Parliamentary vote and Barnes recalled his battle with alcoholism, maybe the last word should be left to Tony Burke.
"Can I just say... the importance of the telling of the story -- that Magda's done, that Jimmy's done -- I don't think can be underestimated," Burke said.
"Because every time one of those stories is told, there's someone who for the first time in their lives that says, 'hang on, I'm not alone in here'."
And that's it's own magic.
An earlier version of this story stated that the Government could adopt the Productivity Commission-recommended changes to the life of copyright period. Communications Minister Mitch Fifield ruled out adopting this provision in May 2016.