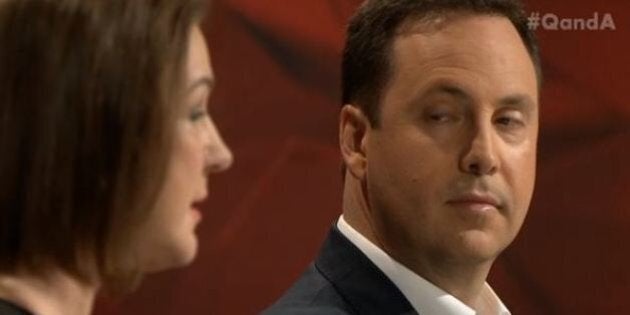 It was the Q&A question which left Labor and Liberal ministers butting heads as they split hairs over "offshore detention" versus "regional resettlement".
Monday night's audience member Joy Dovovan told the panel she talks to an asylum seeker who has been detained on Manus Island for 30 months.
"He is 30 years old. He is severely depressed. He is unable to sleep, he is not eating, he is feeling that he might die there. He has been assessed as a UN refugee. My question is to the panel: What can you do, what can you say to our government and to the people of Australia that could encourage our government to change this, this awful situation?"
Greens Senator Sarah-Hanson Young slammed the Government's policy of offshore detention, labelling it "inhumane" and saying she is one of the only Australians who has visited the detention centres without being "gagged" from telling the stories "of what goes on in there".
"It's an awful, awful circumstance. It's something that we have to tackle. The truth is the Government doesn't have an exit strategy for Nauru and Manus Island and they need to get one because it's not sustainable. You can't continue to leave hundreds of people effectively rotting in these camps," said Hanson-Young on the program.
"The deterrence policy is designed to break people."
Newly appointed Trade Minister Steve Coibo defended the government's asylum seeker policy of off-shore processing, claiming the government offers detainees the option to resettle in a third country. And Labor MP Terri Butler quickly jumped in.
"What third country is on offer? You had four people go to Cambodia, didn't you?
"It is a disgrace -- you had people in camps for 30 months."
But when Butler was asked by an audience member whether Opposition Leader Bill Shorten would listen to the delegates at a NSW Labor conference at the weekend voting "unanimously" in favour of allowing asylum seekers "in limbo" to remain in Australia, the Labor MP was short for words.
"Hang on. I guess there is a few things I want to say. The first thing is if you accept - I'm sure a number of people in this room don't accept it - but if you accept the proposition that you need to not have an advantage by coming here in the unsafe means of a boat, over and above coming here in the safe means of a plane, which is our policy," said Butler.
"I think there is good, strong arguments to say offshore processing is necessary... that does not necessitate the idea you have to accept people sitting in tents for months and months and months."
When asked what Labor's policy was by Ciobo, Butler said "regional resettlement". Host Tony Jones then clarified: "your policy is under no circumstances should those people come to Australia and their policy is the same".
"It's the same policy!" retorted Minister Coibo. "This is the madness of Labor's position."
British journalist and author Mark Steyn who was described as a "conservative commentator" by the program claimed he was unsympathetic to the refugee issues but claimed the current policies were "just bandaids on the symptoms rather than actually getting to the heart of the problem."
"I have problems with what is going on in Nauru and Papua New Guinea -- which seems to me as an old school imperialist to be colonialism with all the defects and none of the benefits," said Steyn.
"If you are going to warehouse people in essentially former Australian colonies, then I think you have an obligation to process them expeditiously."