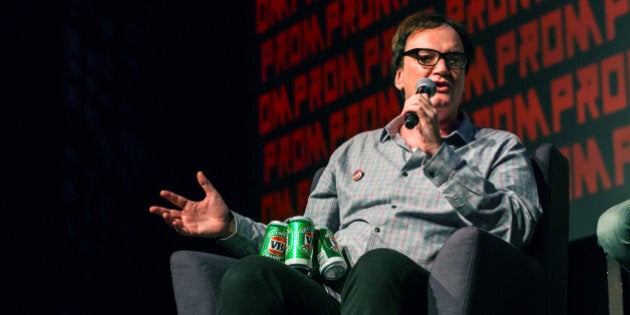 Quentin Tarantino loves many things; blood, Samuel L Jackson, liberal sprinkling of the n-word through his scripts. You can add Victoria Bitter beer to that list, apparently.
Tarantino, in Australia currently doing the publicity and premiere rounds for latest film The Hateful Eight, has been spotted several times with VB in hand. The director has popped up at several premieres across the country, and at least twice told audiences how much he loves the Australian, green-canned beer.
At the Sydney premiere of the film last Wednesday night -- which this reporter attended -- Tarantino got up on stage to introduce the film, with a stubbie of beer in hand.
"They tried to take my VB off me before I came up here and I said 'I think Aussies want to see how much I enjoy their VB'!" he told the audience, to delighted cheers.
VB clearly got wind of this amazing marketing opportunity, and quickly whipped up a personalised six-pack of VB cans for the director, with a personalised version of the famous logo bearing the words 'Quentin Tarantino' instead of 'Victoria Bitter.' They presented Tarantino with the gift at a Q&A event in Sydney on Friday.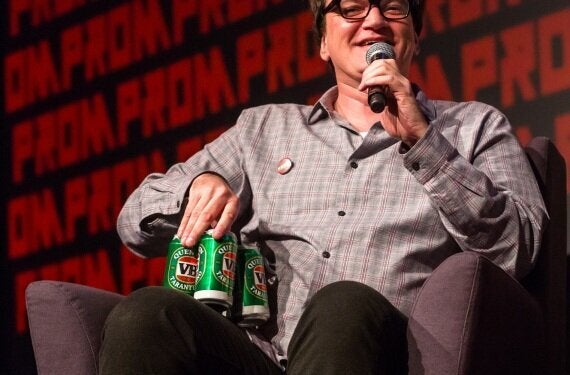 Tarantino with the personalised cans
"The team that was organising the event that Quentin Tarantino hosted got in touch with us and told us about Quentin's famous love of Victoria Bitter and asked us if we'd like to get involved. After that, it was a no-brainer, when Quentin Tarantino knocks, you answer," Richard Scott, Head of Brands for Victoria Bitter, told The Huffington Post Australia.
"When we found out that Quentin was a fan of Victoria Bitter, we knew we had to do something special to commemorate an iconic film director's love for an iconic Australian beer, which led us to the personalised Quentin Tarantino cans of Victoria Bitter -- or the TaranTinnies as we like to call them."
That's right -- TaranTinnies.
"There was a bit of work involved, particularly from the manufacturing side of things, but the end result made it all worth it," Scott said.
Pictures of Tarantino with the personalised beer lit up social media overnight.
"We knew that Quentin loved our beer, so beyond just gifting him some, we wanted to leave him with a special memento of Victoria Bitter, and Australia, that he could keep forever. Hopefully he'll keep it next to his awards," Scott said.