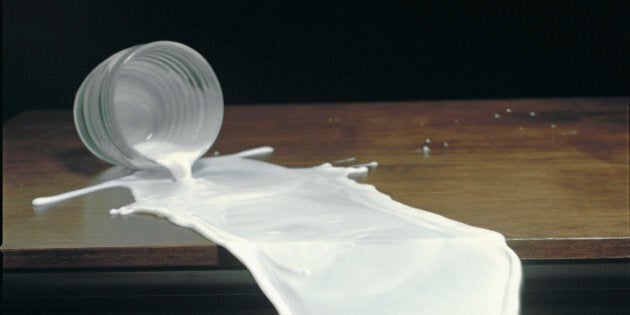 Whether it's legal or not, people are buying and drinking raw unpasteurised milk, says cheesemaker Claudia Bowman.
She argued to have the product made legally available to buy -- with careful controls -- at Sydney Environment Institute event Risky Milk, Risky Cheese on Wednesday at The University of Sydney.
Unpasteurised milk, or raw milk can become contaminated with potentially deadly pathogens including E-Coli, salmonella, and a bacteria called campylobacter.
It is illegal to sell for consumption in Australia, however the product is sold as bath or pet milk, which Bowman said people bought to drink.
"The problem in Australia is the Commonwealth hasn't bought milk legislation in line with consumer demand so it's gone underground," Bowman said, who co-owns McIntosh & Bowman Cheesemongers.
"It forces people to be sneaky, packaging raw milk as cosmetic milk or pet milk, and the problem with black markets is there is no transparency or support for the consumer.
"I'm amazed there hasn't been more issues with raw milk considering it's all done in sneaky ways."
Centre for Values, Ethics and Law in Medicine research fellow Dr Chris Degeling, however, said any legislative changes should be carefully considered.
"When protections are put in place to save lives, there needs to be very careful consideration to consider removing them," Degeling said.
"No food is technically ever safe, there's always a risk and potential problems with storage and transportation -- safe is a relative concept."
Degeling said Australia didn't have a contemporary culture of drinking raw milk.
"It comes down to the argument that if an individual wants to do something and they understand the risk it poses, that's all very well but if people are used to drinking pasteurised milk and they don't understand the higher risk raw milk poses, that isn't good," Degeling said.
"It's about understanding the risk."
Bowman said a legalised industry could impose strict rules to ensure raw milk was consumed shortly after being produced, and could come with a bacteria-testing kit.
Degeling agreed there were ways of minimising the risks, and that large-scale production could exacerbate problems.
"Often the milk from a lot of cows are mixed together and it only takes one breakdown in the hygiene and bio-safety measures in the milking of one cow for the whole batch to be contaminated with a pathogen," Degeling said.