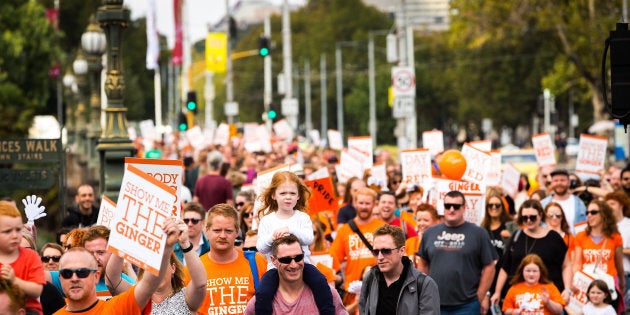 Redheads have descended on Melbourne's CBD for a brand-sponsored celebration of ginger hair.
Rally-goers have turned out on Saturday for the fiery yearly event hosted by The Red and Nearly Ginger Association (RANGA) along with Buderim Ginger.
The rally, expected to draw a crowd of thousands, kicked off at 10am local time and is billed as celebrating "uniqueness and diversity" in the community.
"Celebrate our super powers, unique fiery manes, enviable moontan complexions and unbreakable spirit with a ginger rally starting in Federation Square, marching to celebrate uniqueness and diversity in the community," organisers said on the event's website.
It's also aimed at helping to raise awareness and funds to stop bullying against children.
While spruiked as a pride rally, the event also appears to be a canny marketing stunt from Buderim Ginger, which is using it to build its brand.
Leveraging a protest to push product landed Pepsi in trouble recently, but Buderim's socially-engaged effort does not seem to have drawn the ire of social media.
ALSO ON HUFFPOST AUSTRALIA