A controversial and racially-charged interview in which Red Symons asks a fellow ABC journalist if she was "yellow", in a segment entitled 'What's the deal with Asians', has been taken down by the broadcaster.
The audio, released on Friday morning, is an extract from Symons' interview with Beverley Wang, host of ABC podcast 'It's Not A Race' -- the primary focus of which is issues concerning race and racism.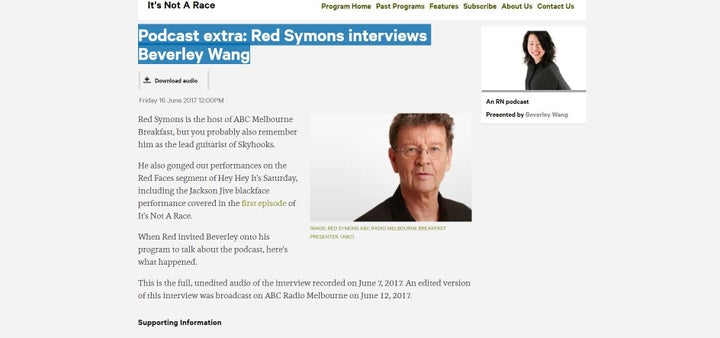 Prior to asking whether all Asian people were the same, Symons admitted to his guest that he hadn't even listened to her podcast yet.
"Wang, I'm guessing is Chinese?" he asked Beverley, who was born in Canada but whose family history in Taiwan stretches back 400-years.
"OK -- so your family is not a Chinese family that, for ideological reasons, left behind the mainland because they wanted to be capitalists?"
In an awkward exchange, Wang clarified to Symons that "400 years ago [it] wasn't ideology, it was survival".

The ABC pulled the interview on Friday, before issuing an apology for its content.
"ABC Radio has removed the latest episode of RN's It's Not A Race podcast and an earlier ABC Radio Melbourne segment," the statement read.
"A review of the editorial processes regarding this content and its use is in progress. ABC Radio apologises for the content going to air."
Wang clarified to Symons that she, in fact, was from Canada. "In Canada -- where I'm from -- they speak English and French," she said.
Symons then suggested she was "probably from the west coast of Canada because it's closer to Asia."
"I didn't particularly think anything about the notion of them wearing makeup other than there was a deep irony to somebody playing Michael Jackson who was -- I think he was Indian or Asian -- which are the same thing technically... who was wearing whiteface in order to indicate that Michael Jackson had chosen over the years to become less black," he said.
Symons then asked whether Wang would wear white or 'yellow' face.
"I just wouldn't do it," she said.
"I would never put makeup on my face to impersonate another race, it just doesn't work for me."
ALSO ON HUFFPOST AUSTRALIA