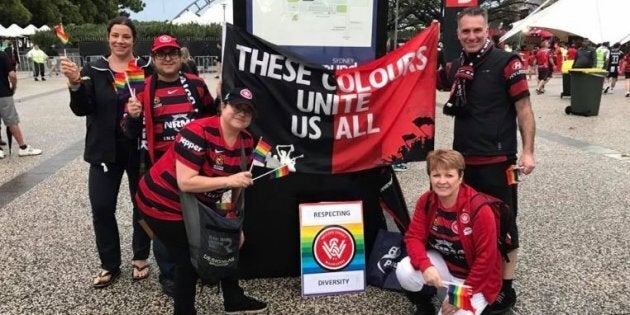 Humanity, it seems like you're OK after all.
He just couldn't stomach the fact that fans had unfurled a banner which belittled a rival team's coach by depicting him engaged in oral sex. Nor would he accept the ongoing torrent of hate and defiance on social media.
Guy Gillor, like those fans, is a massive supporter of the Wanderers. As he told The Huffington Post Australia last week, standing among them was the first time he felt truly a part of something, rather than an outsider trying to blend in.
But sometimes, your principles are more important than your comfort. So on Saturday night, Gillor took a stand. Before the Wanderers home game against Adelaide United, he and a small group of fans handed out rainbow flags.
Initially, when we first wrote about the initiative last Friday, there were some suggestions it would not end well.
Others voiced their support.
The good news, as Gillor told us on Monday morning, is that everything turned out just fine.
"It all went really well on Saturday night," he said. "I remember you asked me what would I consider a success, and I wasn't sure what to say. But looking at the action I think it was a success in a number of ways.
"First, the actual reception we had was excellent. Almost everyone was supportive, people were coming up asking for flags, thanking us for the initiative.
"We handed out the last of our 800+ flags with 30 minutes left to go before kickoff, meaning that almost 10 percent of the crowd took a flag on their way in. If we'd had double and triple that amount of flags, we would have distributed all of them.
"To us, this was a real showing of the inclusive fan base that we have, and the gap between the keyboard warriors and the majority of the fan base.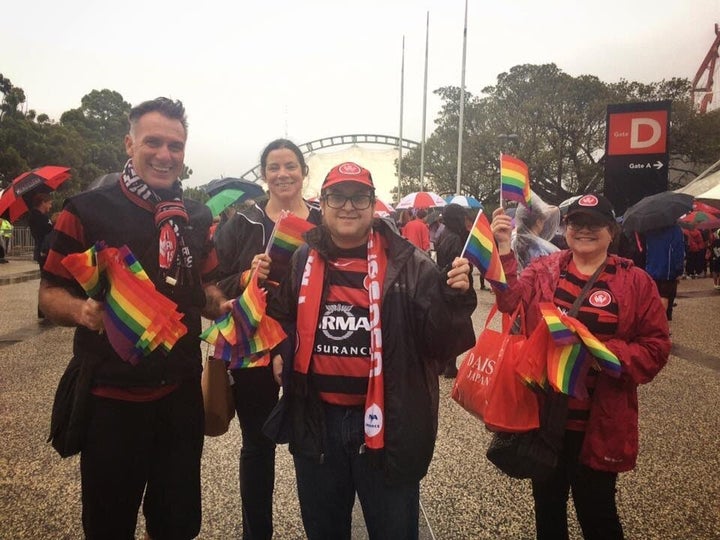 "Another aspect in which it was a success is watching a lot of the online discussion. Whereas in the past there was almost no one challenging homophobic stuff, right now there are many more people who are taking up the issue and arguing about it positively -- which in my eyes is a huge win."
Oh, and for the record, the football score was Wanderers 0 Adelaide United 0. But the only score that mattered on the night was Decency 1, Ratbags 0.
ALSO ON HUFFPOST AUSTRALIA