Was Australia's 2022 FIFA World Cup bid dirty? That's pretty much what a FIFA report says, with allegations that the Football Federation Australia (FFA) made "improper payments intended to influence the vote of an Executive Committee member".
This and many other allegations are all tabled in the full, unedited 400 page report into the 2018 and 2022 World Cup bidding process (the Cups were awarded to Russia and Qatar respectively and announced at the same time.)
The report, by FIFA Ethics Chief Investigator Michael Garcia, was originally leaked to German tabloid Bild. It appears FIFA then decided to outflank Bild by sticking the report on its own wesbite, where the whole world can read it in full.
But some of the tactics in Australia's failed 2022 World Cup bid -- for which we received just one miserable vote despite spending $45.6 million and creating the weird kangaroo video below -- are just as hard to swallow.
An edited 42 page version of the report was released in 2014, but this is the first time the whole thing is out there. Forty pages are devoted to Australia's failed bid. They reveal questionable conduct on the part of Australian football officials and their hired consultants.
Australia hired three consultants, all of whom, as the report says, had "deep ties to football". In particular, there are conduct issues around consultant Peter Hargitay -- who was close to disgraced former FIFA chief Sepp Blatter.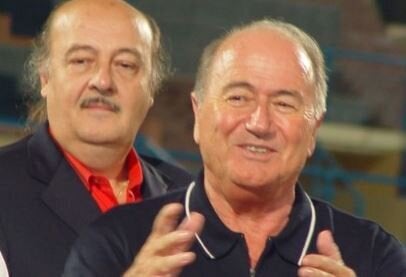 Among other indiscretions, Hargitay, is alleged to have broken bid registration rule 11.4, which states that bidding countries cannot disparage rival bids to FIFA executive members. As the report says:
The email communications show that Mr. Hargitay, who had a lucrative contract with the Australian bid team, executed his strategy of using his purported relationship with President Blatter and other high-ranking FIFA officials to create the appearance that he was influencing the bidding process. His communications with FIFA officials reflect inappropriate denigration of other bids and show that he obtained confidential internal FIFA Ethics Committee correspondence. That misconduct was exacerbated when he forwarded those communications to the bid team members in order to demonstrate his "insider" status. His actions gave the appearance, at least to his employer, that he was improperly influencing the process.
But as stated, it's not just the people we hired who got things wrong. Football Federation Australia (FFA) is heavily under fire for trying to influence votes with cash payments.
FFA contributed $500,000 to a football Centre of Excellence in Trinidad, the home of FIFA executive Jack Warner, who was later suspended as FIFA Vice President following allegations of corruption. The money went into an account controlled by Mr Warner and there's no evidence it ever went towards the Centre of Excellence.
The record provides significant evidence that the AU$500,000 was paid with the intention of influencing Mr. Warner's World Cup vote. Australia's bid team perceived the payment as a benefit for Mr. Warner, as did Mr. Warner himself. Whether the bid team knew Mr. Warner would later misappropriate the money or that the COE project itself was designed for such purposes by Mr. Warner does not change these facts.
"FFA's approach to funding development projects in Africa and elsewhere is a further unfortunate example of bid teams using money that should be awarded based upon humanitarian considerations to curry favor with officials eligible to vote... The bidding guidelines requiring requiring candidates to support development efforts cannot be fairly read to encourage such behavior."
There are other practices involving Australia's bid team which do not reflect well on then FFA chief Ben Buckley or many other senior figures in the game.
Another person under the spotlight is much-loved football commentator Les Murray, who was on FIFA's ethics committee during the time of the bid and is said to have leaked confidential information to Mr Hargitay.
It's a big messy document which at its heart, shows that Australia was not a whole not cleaner in some respects than its rivals. And as Fairfax media points out, the FIFA report now also raises serious questions about investigations by the FFA and the Australian government, which found the 2022 bid engaged in no wrongdoing.
ALSO ON HUFFPOST AUSTRALIA