Richard Hammond has given fans a video update live from his hospital bed, after becoming injured in a car accident over the weekend.
On Saturday (10 June), it was reported that Richard had been airlifted to hospital, following a crash while filming a stunt for the second series of 'The Grand Tour'.
He's now assured fans he's doing OK, with a typically irreverent video message, recorded in a Swiss hospital.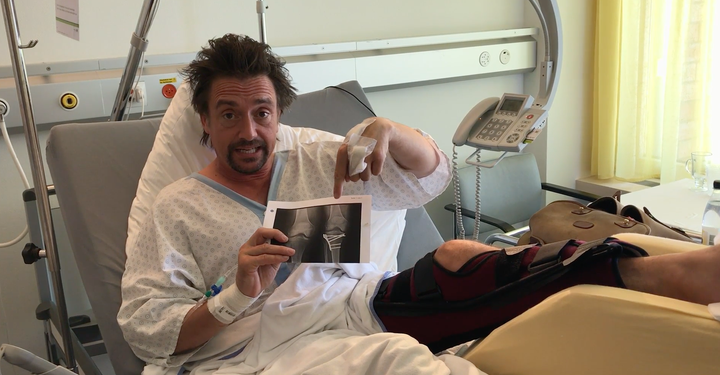 In the clip, posted on Drive Tribe, he commented that he'd be undergoing surgery to get a "Swiss army knee", explaining: "I'd like to thank all the medical professionals who got me by air ambulance from the crash to this hospital, and have dealt with me ever since."
He then joked: "I'd like to say thank you also to James May, who smuggled a bottle of gin in for me last night, I shouldn't have said that out loud… and most importantly, sorry to my wife Mindy, and my daughters Izzy and Willow. I'm sorry for being such a colossal…"
At that point, his co-presenter James May - who was revealed to be filming the video message - held a copy of 'The Idiot Brain' in front of the camera.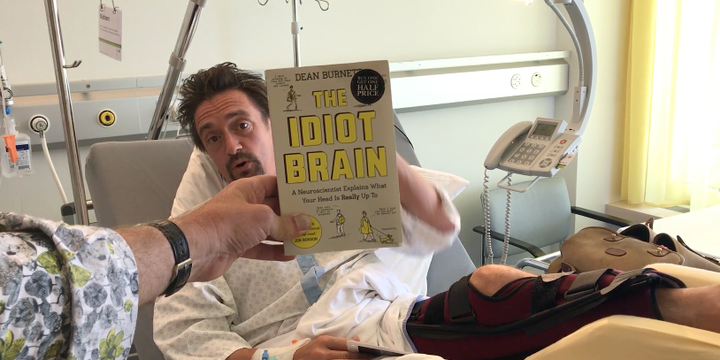 Since the crash, it was reported that co-hosts James May and Jeremy Clarkson had feared the worst, with executive producer Andy Wilman revealing the team thought Richard had died when they saw the aftermath of the accident.
During his time on both 'Top Gear' and 'The Grand Tour', Richard has been involved in a number of stunts that have gone wrong, most notably in 2006, when he almost lost his life after he was involved in a 288mph collision.
Just last month, he claimed that his daredevil days were behind him, telling The Mirror: "I've a beautiful wife and two beautiful daughters. I'm not going to risk leaving them. Not for their sake, but for mine."
Watch Richard's full video message on Drive Tribe here.