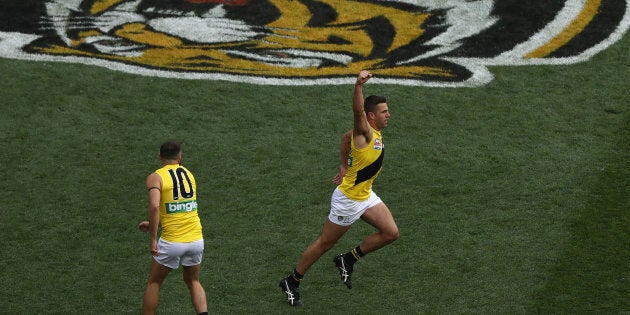 Richmond has won the AFL grand final. No, that is not a mistake. It actually happened. After 37 years, the Tigers have finally won their 12th VFL/AFL premiership. Brownlow Medallist Dustin Martin won the Norm Smith Medal for best-on-ground.
The Tigers beat the Adelaide Crows 16.12.108 to 8.12.60 at a packed MCG which had more people shoe-horned in than the 100,000 official capacity. And boy, did they treat each and every one of those people to an emphatic victory.
This is an incredible turnaround for a much-maligned club which finished 13th with just eight wins last year. No team has ever won a flag from such a lowly position the previous season. Coach Damien Hardwick and other key players were lucky to survive the off-season. But the club stuck strong. Oh boy, has loyalty paid off.
The first four minutes were a classic grand final opening. Every ball was fought over like it was a gold bullion bar. It was scrappy but tough as hell. But the Crows had just a little bit more composure when it counted -- as they have had all year -- and broke through for the first goal to Rory Sloane. The second, to Eddie Betts, followed soon after.
Then a moment of brilliance Richmond so sorely needed to get its army of supporters into full voice.
Alas, Jack Riewoldt couldn't capitalise on this mark, and missed his set shot. His next two kicks were behinds too. Finally the Tigers goaled. Another followed, thanks to a brilliant piece of lead-up work from -- who else, Dustin Martin -- and a great finish from Bachar Houli.
Richmond were in front for the first time. But Adelaide grabbed the next two. They weren't doing anything fancy. They just did the simple things right. Ruckwork. Crumbing. The unsexy stuff.
At quarter time it was Adelaide 4.2.26 to Richmond 2.3.15.
The second term was all Richmond. The first score of the quarter was a behind to the always dangerous Crow Eddie Betts, again from a loose ball. But things turned after that. Riewoldt finally got one, just. What do they always say about footy being a game of inches?
Then the Tigers got another. And another. And then an absolute cracker to that man Martin. If the MCG had a roof, the roar from the Tigers crowd would have carried it off and frisbeed it halfway to Werrribee.
In an excellent omen for Tigers fans, midfielder Conor Menadue (who wasn't selected for this game) won the Grand Final Sprint at halftime.
Richmond got the first goal through 19-year-old Jack Graham, who was playing just his fifth career game. That made five goals in a row to Richmond. And then it was six -- and 42 minutes since an Adelaide goal -- after the experienced Shaun Grigg shot truly.
Make that seven goals in a row, after small forward Kane Lambert snapped a brilliant goal six minutes into the term. The lead at that point was 28 points.
Finally Adelaide got one. Their skipper Taylor "Tex" Walker had a set shot which he simply had to get. Walker has been quiet by his high standards this finals series. Get it he did.
Then heartbreak for Crows fans. Another goal to Jack Graham, this one from distance. We repeat: this is his fifth game of senior AFL footy. In fact, he's never lost one yet in his fledgling career.
Second season Richmond player Jason Castagna kicked the next. This was turning into a heck of an afternoon for the Tiger cubs.
Meanwhile Adelaide were getting panicky and starting to make bad decisions. All year they'd been so composed. But Richmond's hustle and energy was throwing them off their game. Bad handballs. Bad disposals. Silly free kicks conceded. This was becoming the story of the 2017 grand final for the Crows.
A missed shot from 35m right on the siren kind of summed it all up. At the break, the grand final was Richmond's to lose.
Only one team in 33 years had come from behind at three quarter time to win a grand final. Could the Crows be the second? It didn't look likely when Jack Riewoldt marked and kicked the first goal of the final term.
The Tigers were double Adelaide's score at that point -- 80 to 40. They extended with another goal, and as the AFL said it was "Tiger Time".
Adelaide struck back with two quickies. A hopeless cause was now a statistically possible but unlikely one. But not for long. When Jacob Townsend kicked through the big sticks with nine minutes to go, it was all over.
And when Dustin Martin marked, then kicked a goal with what was almost certainly a miskick, well, you just knew it was fate. The Brownlow medallist is the first Tiger to win said gong and a grand final in the same week. The Norm Smith was the cherry on top. And the whole of Australia -- minus the city of Adelaide -- celebrated with him.
"22 contributors. The guys have been outstanding," Richmond captain Trent Cotchin told Channel 7.
"It's unbelievable. So proud of the guys, not only the guys out here, but the guys who didn't get a game today," Jack Riewoldt said.
"Now we're f--ken premiers. Sorry about that."
Dustin Martin also dropped an f-bomb when interviewed on the ground straight after the game. But everyone forgave him.
"Firstly congratulations to Richmond, too good," Adelaide captain Tex Walker said, in what was an early contender for shortest speech ever.
"Thanks to the Adelaide Crows, and thanks to the fans for coming out. Yellow and black!" said Dustin Martin on receiving the Norm Smith Medal, in an even shorter speech.
"To the love of my life..." coach Damien Hardwick said, and you knew he couldn't mean his wife, as he'd already thanked her. So who did he mean? His players, of course.
"I love watching you play, and now you're a premiership team."
And then the sun came out, after it had hidden away behind black clouds and intermittent showers all day. And the upper decks of the MCG stands were bathed in yellow. And that was the yellow to go with the black on this very, very yellow-and-black football day.