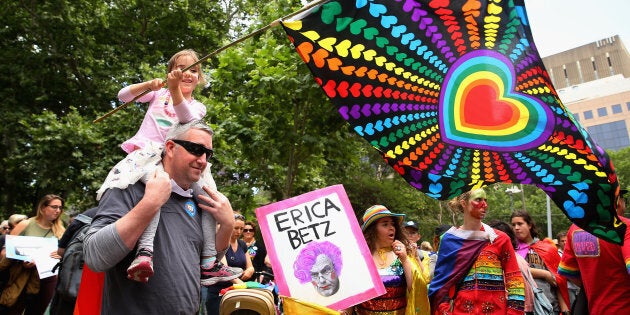 CANBERRA -- The results of the same-sex marriage postal survey are days away from being announced but attention has already shifted to how a "yes" vote will be translated into federal parliament and now there is a new option being presented to allow a "limited right of conscientious objection".
It had been widely assumed that a Private Members' Bill proposed by Liberal Senator Dean Smith would be the version facilitated through Parliament as a free vote.
But now fellow same-sex marriage supporter and Liberal senator James Paterson has released his own marriage bill as an offering to conservative colleagues -- and it has more emphasis on religious protections.
It will also override state anti-discrimination laws so that same-sex couples can be refused services by commercial businesses and charities.
Senior Liberal minister Simon Birmingham warned on Monday against creating a new form of discrimination when legislating same-sex marriage, but Senator Paterson, a champion of individual liberties, says he is offering "robust" or broader protections for freedom of religion, freedom of speech and freedom of conscience.
James Paterson's same-sex marriage bill

Expands the definition of marriage to include same-sex couples
Ensures ministers of religion and celebrants have a right to refuse to solemnise a same sex wedding.
Establishes a limited right of conscientious objection, to ensure no-one is forced to participate in a same-sex wedding against their sincerely held beliefs.
Protects freedom of speech so that Australians can discuss their view of marriage without fear of legal penalties.
Enacts a narrow anti-detriment clause that prevents governments and their agencies from taking adverse action against someone with a traditional view of marriage. It does not apply to non-government organisations, businesses, or individuals, preserving freedom of association.
Guarantees parents' right to choose their childrens' education by allowing them to opt out of classes that conflict with their values.
"It includes provisions to ensure that no-one to be compelled to participate in a same-sex wedding against their values," he told reporters.
"It ensures that laws that we have, particularly at the state level that restrict free speech, can't be used to prevent people from sharing their views on marriage and it also ensures that parents have the right to remove their children from classes whose teaching is inconsistent with their values."
"I am a long term same-sex marriage advocate. I've been proud to vote yes and this is the Bill that I believe will get us to a place where we have both same-sex marriage in this country and also we also respect the freedoms of those who disagree."
But Birmingham warned Parliament must not create a new form of discrimination when knocking out the previous one which disallowed same-sex marriage.
"As we move, if we are after this vote, to remove one form of discrimination we don't want to put in place other forms of discrimination instead," he told Sky News.
He and fellow Cabinet minister Mathias Cormann have stated the Smith bill is a good starting position for legislating same-sex marriage because it had gone through the cross-party Senate committee process.
"But I suspect it will need improvement in terms of strengthening religious protections," Cormann told ABC radio on Monday.
The Finance Minister also revealed the Coalition party room won't decide which of the various Private Members Bills will be put.
"There won't be a Government position, there won't be a party position," Cormann said.
There is another alternative bill in the works which is supported by about a dozen conservative Liberal parliamentarians.
It hasn't been publicly released, but is purported to contain greater protections for religious bodies and protections for parents and schools with strong religious views. It is also expected to address non-religious objections to same-sex marriage and protect faith-based charities from losing funding.
This, and another conservative push to try to flood any debate of the Dean Smith Bill with up to 100 amendments, is being seen by same-sex marriage advocates as an attempt to thwart or at least stymie efforts to change the Australian Marriage Act.
Paterson denies he is clouding or delaying marriage equality efforts.
"That might be their motivation but it is certainly not mine," he said.
"I have been on the record on this issue as consistently as I could be for more than six years now that I support same-sex marriage, but we should respect the rights of others who disagree. I am genuinely trying to get to that outcome as soon as possible."
Despite Cormann's revelation that private members bill won't be take to the Coalition party room, Paterson still wants to take his own marriage bill to the Liberal party room for discussion.
"It is something that the Labor Party has already has and the Greens already have. We have actually never discussed how to legalise same-sex marriage if we should do so and I think that's an important discussion for us to have as Liberals."
If that does not happen then Paterson said the introduction of same-sex marriage won't be as "happy" or as warmly received as it should be.
He said, in fact, it could be acrimonious.
Paterson has not approached conservative colleagues about his Bill, but will be consulting them over the coming days.
The same-sex marriage postal survey result will announced by the Australia Bureau of Statistics after 10am on Wednesday.