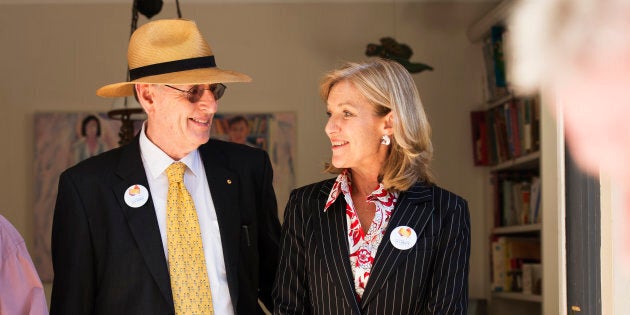 Celebrated author and academic Professor Ross Fitzgerald will lead The Sex Party's bid for a federal Senate seat in NSW, named as the party's number one candidate.
Fitzgerald launched his campaign at his home in leafy Redfern, Sydney, on Wednesday. With his daughter's paintings hanging proudly on the walls and a small white dog weaving around the patio furniture, he spoke of his reasons for mounting his first election campaign at age 71 -- namely, support for marriage equality, voluntary euthanasia and dealing with alcoholism and other social problems among prison inmates, as well as opposition to censorship laws.
"I am an author. Like the overwhelming majority of authors, I don't want my work censored by the Roman Catholic Church, the Anglican Church or any other religious group," he told those gathered for the intimate campaign launch.
"I believe that church law must not infiltrate our democratic secular laws – whether it is same sex marriage laws, voluntary euthanasia laws or censorship laws."
Emeritus Professor in History and Politics at Griffith University, Fitzgerald has published thirty-eight books, including works on Australian Rules football, politics, the history of alcohol in Australia, religion, and a string of novels. His latest book -- 'Going Out Backwards: A Grafton Everest Adventure' -- features an unlikely man elected to the Senate, but he told The Huffington Post Australia the 2015 book was conceived well before his own election campaign was on the cards.
"It was coincidence. Serendipity," he said.
The Sex Party, founded in 2009 on a foundation of civil libertarianism, was born out of the Eros Foundation, a group representing brothels, adult stores and other parts of the sex trade. Fiona Patten -- the party's founder, leader and its only current sitting parliamentarian, having won a seat in the Victorian Legislative Council -- told HuffPost Australia in March the party's core policies included dying with dignity, decriminalisation and regulation of illicit drugs, and a strong separation of church and state.
Fitzgerald only joined the Sex Party as a member in recent times. He wrote a column in Fairfax Media about his membership, which saw party leadership contact him with an offer: be our lead Senate candidate for NSW in the upcoming election. He said it was the first time he'd ever joined a party, at age 71, but the party's core issues resonated with him.
"Drug reform, same sex marriage, legalising and taxing marijuana, and especially about taking on religious institutions. It's absolutely outrageous they pay no land tax, no rates. That would bring in billions of dollars to local, state and federal governments," he told HuffPost Australia.
As a long-time member of parole boards in NSW and Queensland, he also wants to see more work done to reform and aid prisoners in the penal system.
"Unless alcohol addiction and illiteracy is dealt with in our prisons, a great many prisoners will be recidivists. It's obscene that in this day and age, so many are illiterate and so little funding goes into addiction and illiteracy treatment," he said.