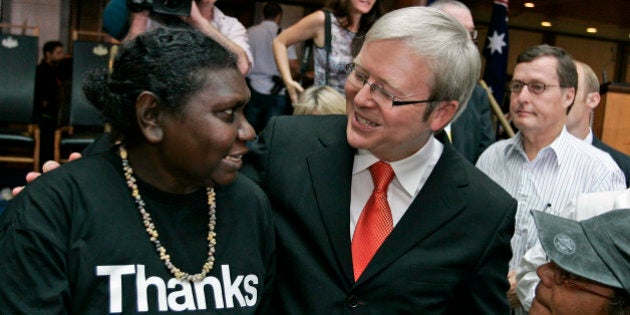 Former prime minister Kevin Rudd will stump up $100,000 toward establishing a chair at the Australian National University dedicated to "closing the gap" in indigenous disadvantage -- misquoting The Castle, referencing Paul Kelly and haggling with the university in the process.
Rudd spoke at ANU on Wednesday evening, delivering the university's 2015 Reconciliation Lecture wherein he outlined his wish for constitutional recognition for Aboriginal people.
In a long speech, Rudd touched on reconciliation, restorative justice, indigenous incarceration rates and his own historic apology to the stolen generation in 2008.
However, the centrepiece of the talk was his announcement of plans to establish a chair at ANU as part of the National Apology Foundation, an organisation Rudd himself founded.
"The Board of the National Apology Foundation has agreed that one of its major priorities over time is to raise an endowment for a permanent Chair here at the Australian National University dedicated to the explicit analysis of the policies necessary for, and the core data associated with, closing the gap," Rudd announced.
"We want to ensure the necessary data is collected to measure our success or failure in bridging the inter- generational gap of entrenched Indigenous advantage."
"To be blunt, whoever the future government of Australia happens to be, we want to keep the bastards honest," he said.
"This mission must continue beyond the passing seasons that we call politics."
Rudd said the cost of establishing such a chair at ANU could reach $5 million, but in a puzzling passage, managed to misquote The Castle, reference Paul Kelly and attempt to haggle with the university while standing on its stage.
"The Chancellor tells me such a Chair will need a $5 million endowment. I'm tempted to say, to paraphrase that great work of Australian cinematography, and the array of philosophers portrayed within it, that "they've got to be dreaming". We will talk about the numbers, and of course the university's own contribution. Today however I wish to announce I will be making an initial personal contribution of $100,000 to the Foundation to begin this fundraising campaign. As the song says, from little things, big things grow."
Rudd pointed at constitutional recognition and "closing the gap" on indigenous health, education and opportunity as a key goal moving forward and placed the responsibility squarely at the feet of the current parliament.
"There will be an election next year. Both sides of politics will commit to constitutional recognition... We should be very wary of the risks of political dissipation as other priorities emerge, or as the political process concludes that consensus on recognition is deemed too politically difficult or simply impossible," he said.
"All future Australian governments should be held accountable against the policy objectives of closing the gap, and the data which keeps us honest. If the data tells us we are failing in particular areas, then let us have the imagination, without political recrimination, to do things differently."