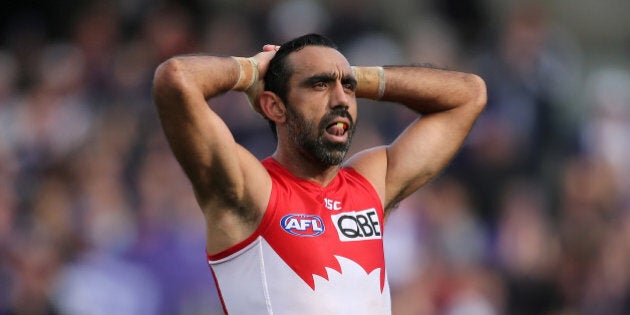 Former prime minister Kevin Rudd says it's "100 per cent bullshit" that the booing of retired Sydney Swans player Adam Goodes had nothing to do with race.
Rudd told NSW Parliament on Friday that when he had spoken out about the treatment of Goodes last year people screamed back that it wasn't because he was Indigenous but instead because they disliked his behaviour as a footballer.
"I'm not exactly a connoisseur of the finer points of the game," he said in the speech, as reported by the Sydney Morning Herald.
"But I think that the claim that this was to do with Adam Goodes as a sportsman and not to do with his Aboriginal identity, I think that claim is 100 percent bullshit."
Goodes' final two-and-a-half seasons playing AFL were marred by abuse that began when he pointed out to a member of the crowd who had called him an "ape" during a game in 2013.
This was followed by series of persistent racist booing by crowds during games throughout 2014 and into 2015, ultimately leading to his decision to retire from football.
"Obviously the booing didn't stop, but I was able to be a lot stronger mentally and physically to deal with that for the last couple of months, knowing that it was going to be my last couple of months," Goodes told University of Sydney student newspaper Honi Soit.
Speaking on the anniversary of his apology to the Stolen Generation, in which he previously remarked that he was turning a new page in Australia's history, Rudd said that it would be naïve to conclude that Australia did not have a problem with racism against Indigenous people.
"Perhaps I was just wishing that the better angels of our nature had begun to prevail in a newly reconciled Australia," he said.
"Or perhaps I was just plain wrong."
Rudd went on to cite examples of what an Indigenous friend had recently described to him as the "low, steady hum of racism" in Australia, another side to the nation that is "more confronting than we white folks are ready for".
Such examples included a black, but not Indigenous, Australian who was forced to leave his job because "he just couldn't put up with it anymore, being called a 'monkey' by one of his co-workers", as well as an elderly Aboriginal couple who were refused service in a country café.
"To me this story sounded more like one from the Birmingham, Alabama of the 1960s rather than regional Australia half a century later," he said.
While Rudd doesn't believe that this racism represents mainstream Australian society, he stressed that we should all be concerned that the problem of racism still exists.
"It's like a cancer that eats away at the fabric of our society -- the fabric that binds us together as the wider Australian family," he said.
"The next time any of us see or hear racist behaviour, don't be silent. Call it out for what it is. Name it. Shame it. For racism has no place in the Australia of the 21st century."