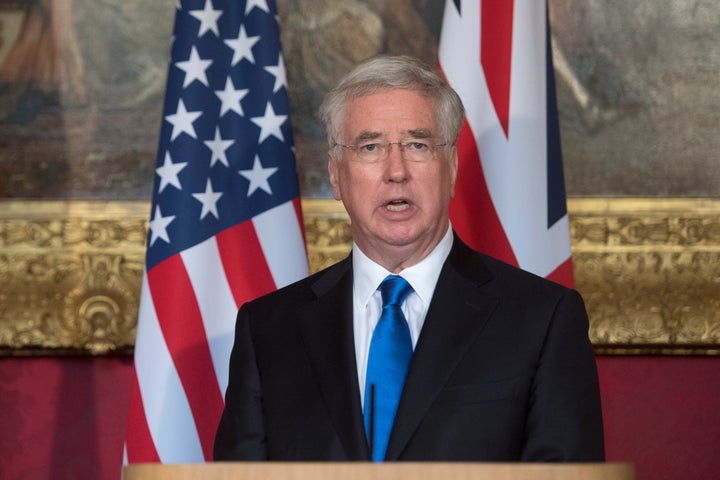 Russia is responsible "by proxy" for the deaths of more than 80 civilians gassed in Syria last week, the Defence Secretary claimed today in bold attack on President Putin.
In an uncompromising article published today, Sir Michael Fallon warned that Moscow must bring Syrian President Bashar Al-Assad "to heel" in order to stop further atrocities in the war-torn Middle Eastern country.
Writing in the Sunday Times, Sir Michael praised US President Trump for authorising a missile strike on a Syrian airbase in retaliation for chemical weapons attack on the rebel-held town of Khan Sheikhoun on Tuesday.
Today, Sir Michael wrote: "By proxy Russia is responsible for every civilian death last week.
"If Russia wants to be absolved of responsibility for future attacks, Vladimir Putin needs to enforce commitments, to dismantle Assad's chemical weapons arsenal for good, and to get fully engaged with the UN peacekeeping progress."
Sir Michael revealed Theresa May had been made aware of Trump's planned bombing campaign before the attack took place, and wrote: "In his first test as commander-in-chief, President Trump made the right call by resorting to careful and narrowly focused military action."
Yet despite the Defence Secretary's strong words today, the Government is continuing to face questions over why Foreign Secretary Boris Johnson cancelled a trip to Moscow at the eleventh hour.
Johnson scrapped the trip just hours before he was due to fly out, saying: "We deplore Russia's continued defence of the Assad regime".
While Johnson is no longer travelling to Russia, US Secretary of State Rex Tillerson will be visiting the country later this week – leading Lib Dem leader Tim Farron to suggest it was America who demanded the UK's diplomatic trip be scrapped.
He said: "Boris has revealed himself to be a poodle of Washington, having his diary managed from across the pond."
Appearing on The Andrew Marr Show this morning, the SNP's Foreign Affairs spokesperson Alex Salmond said Johnson looked in "deep political trouble" after being sidelined.
International Development Secretary Priti Patel defended her Cabinet colleague, insisting that Johnson was working on securing international agreement on how to solve the Syrian problem "by focusing on the G7 meeting that's taking place this week."