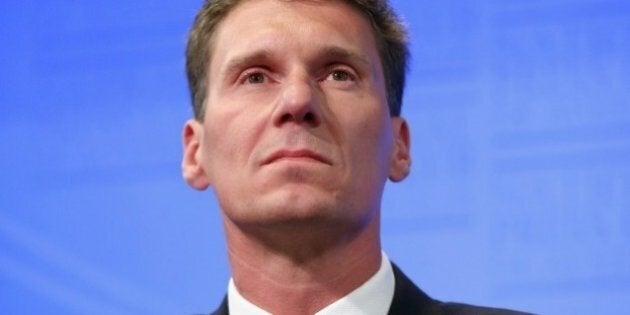 An email purportedly from conservative senator Cory Bernardi to a mother who supports the LGBTI support program Safe Schools has caused outrage, claiming the program tells children how to "find more about bondage clubs and adult sex toys."
A screenshot of the email was posted to Twitter on Tuesday, sparking controversy. The Huffington Post Australia spoke with Pia Cerveri, who claims to have received the email, and sighted the original email which came from "Bernardi Office (Senator)" at the email address "bernardi.office@aph.gov.au".
The email, signed off with Bernardi's initials "CB," tells Cerveri "you clearly haven't got any idea what is in the program." The email goes on to describe Safe Schools as promoting "unhealthy ideas at such an early age" and claims the information provided on the Safe Schools site can be used "to find more about bondage clubs and adult sex toys."
"This is what the safe schools materials encourage. If you think this is ok then I worry for your children," the email continues.
"Inform yourself properly and then get back to me. Your opinion will carry more weight then."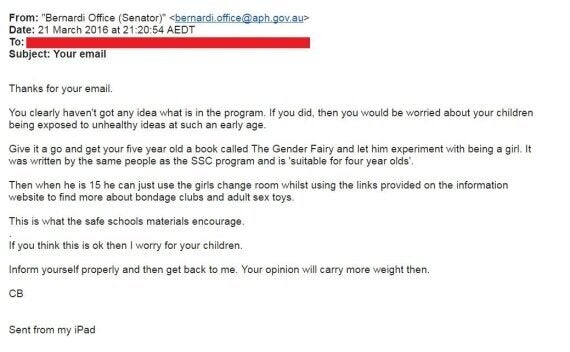 The email Cerveri claims was sent to her by Cory Bernardi
Cerveri told HuffPost Australia she had two sons, aged two and five. Her five-year-old has just started school in Melbourne, but his school was not one of those signed up to the Safe Schools program. Cerveri said her sons had two mothers, but she herself had separated from her same-sex partner.
She claims she had sent Bernardi an email about his opposition to Safe Schools on Monday night. Within thirty minutes, she said, the reply email arrived in her inbox.
"I didn't expect him to reply. I've written to politicians before, usually they takes age to reply and it's usually a form reply with their signature. I've never experienced something like that. I was quite surprised. I couldn't quite compute what he had written," Cerveri told HuffPost Australia.
"I found his tone quite aggressive, very arrogant and dismissive of other opinions. I was really shocked. He's an elected official, holds public office, he's a leader. The tone of the email is insulting."
Last week, a review of Safe Schools recommended parts of the program be cut, including the removal of information from outside websites. Conservative MP George Christensen -- who, along with Bernardi, had been one of the loudest voices opposing the program -- gleefully said the review had "gutted of all the bad content that has been in it, the concerning content that's been in it."
HuffPost Australia contacted Bernardi's office, who seemed unaware of the existence of the email, on Tuesday. His office did not respond to an opportunity for comment. However, not long after the screenshot of the email began circulating on Twitter, he tweeted: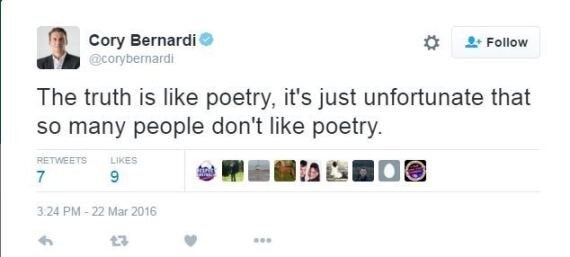 "My sons have two mothers who co-parent and they are secure. The thought that my children would have to justify their family in the schoolyard, because their school doesn't have a program like Safe Schools, makes me angry. It distresses me," Cerveri said.