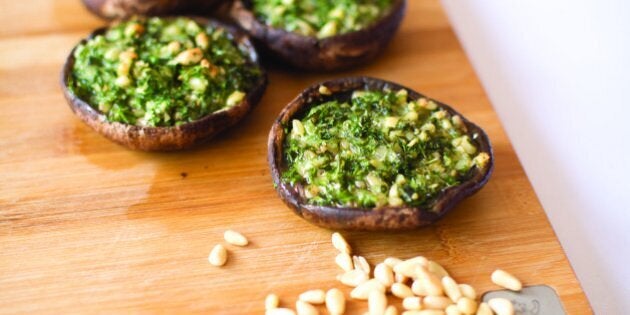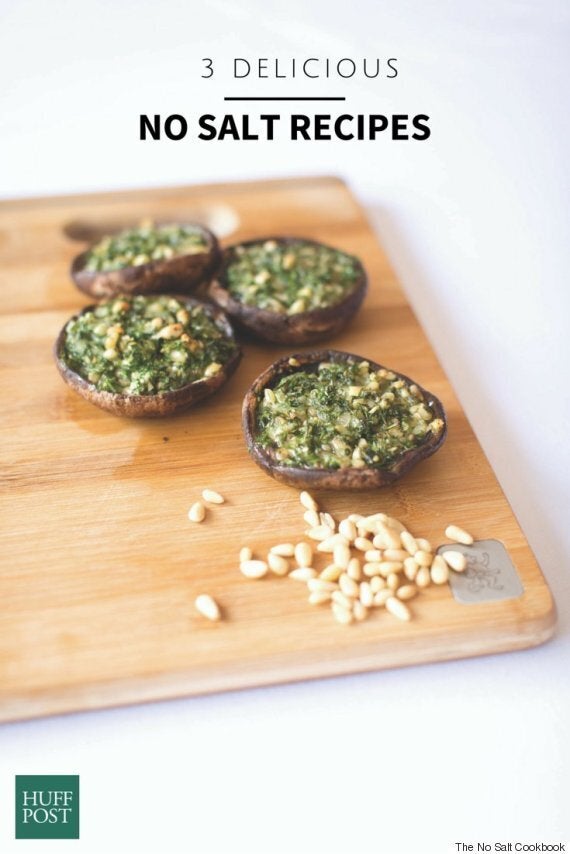 When you're sprinkling salt all over your steak or eating a packet of salt and vinegar chips, you don't often think about what the salt is really doing to your body.
While our bodies do need some sodium for good health (to regulate blood and tissue fluid levels), most of us are eating far too much.
From Wednesday Feb. 29 to Sunday Mar. 6 is Salt Awareness Week -- a week dedicated to highlight the importance of reducing salt intake.
Excessive salt intake can lead to an increased risk of developing high blood pressure -- a risk factor for heart disease, stroke and chronic kidney disease.
Interestingly, cutting out salt completely can help reduce the symptoms of some diseases.
It most definitely helped Emily George.
In 2011, George was diagnosed with Meniere's disease, a condition which affects the inner ear, hearing and balance -- causing vertigo and tinnitus.
Tired of vertigo attacks, George was advised to change her diet.
"My neurologist recommended a low sodium diet to help manage the symptoms," George told The Huffington Post Australia.
"I stopped using salt immediately and within weeks I was vertigo free."
But it wasn't just George's vertigo that disappeared.
"My blood pressure has also come down, I am less bloated and now my family and I eat a lot less processed foods," George said.
If you're thinking how boring and flavourless food would be without any salt, George promises that it is possible -- in fact, it's actually better.
"The first two-to-three weeks were pretty hard -- food tasted bland," George said.
"But once I got past that point, everything tasted better than it had previously -- there was so much more flavour in food that I couldn't taste before as it always had salt added."
"Now if I have a taste of something which has been salted, I can taste it instantly and it is often unpalatable to me," George said.
Aside from helping George manage her Meniere's disease, following a low sodium diet has also improved her cooking skills.
"It also made me a better cook because I couldn't just rely on throwing in some salt for flavour any more," George said. "Now I use lots of fresh herbs and spices and different cooking methods to make food taste great."
As outlined in her new The No Salt Cookbook, there are a number of ways to add flavour without the need for salt.
"Fresh herbs, spices, lemon juice and vinegar are all excellent sources of flavour," George said.
"A dash of red wine in a beef casserole is delicious."
George also recommends trying alternate methods of cooking to bring out different flavours in food, such as poaching, roasting or barbecuing.
"Marinating meats overnight instead of just an hour or so can really intensify the flavour," George said.
Following a low sodium diet or simply want to cut down your salt intake? Try these mouthwatering recipes from George's The No Salt Cookbook.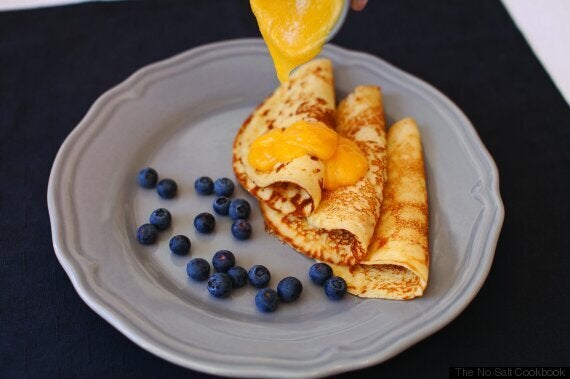 "It is so nice to make your own curd -- no additives, no preservatives. It will also keep well for up to a week in the refrigerator if you transfer it to a sterilised jar."
Makes about four pancakes and one cup of lemon curd.
110 grams all-purpose (plain) flour
1 egg
250 ml milk
Unsalted butter, for frying
100 grams unsalted butter
125 ml lemon juice
4 egg yolks
100 grams caster sugar
Sift the flour into a mixing bowl.
Make a well in the centre, add the egg and whisk until combined.
Slowly add the milk, whisking continuously to avoid lumps. Let the mixture stand for 5–10 minutes.
Heat a heavy based frying pan and add a teaspoon of unsalted butter.
Pour in enough mixture to cover most of the base of the pan. Cook until small bubbles form and begin to pop, then turn over the pancake to cook for 10–20 seconds on the other side.
Prepare a large bowl full of ice in the sink. Prepare a small saucepan about ¼ full of simmering water.
In a small pan (or a bowl in the microwave) melt the butter, then add the lemon juice. Stir to combine and set aside.
In a heatproof bowl, add the yolks and sugar and whisk them to combine. Then slowly pour in the butter and lemon mixture, whisking continuously to combine. Set up the heatproof bowl to sit on top of your saucepan of simmering water, making sure that the water does not touch the bottom of the bowl.
Using the whisk, stir the mixture continuously for about 7–9 minutes until the mixture thickens. Once thick, remove from the heat and place the bowl with curd on top of your ice bowl, so that the mixture can chill quickly.
Serve the pancakes and curd with some fresh blueberries, if desired.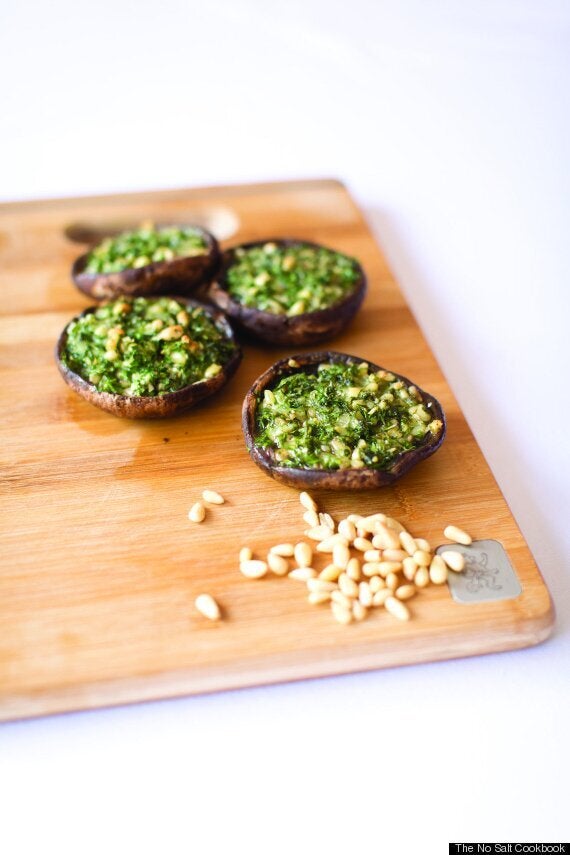 "A great vegetarian entrée, with minimal preparation time. To keep the overall sodium content low, make sure that your mozzarella is a low sodium variety."
4 large flat mushrooms
5 tablespoons of parsley, chopped
2 tablespoons of pine nuts, chopped roughly
4 teaspoons olive oil
40 grams mozzarella, grated
½ teaspoon ground coriander
Preheat the oven to 200°C.
Prepare the mushrooms by trimming the stalk, making the area inside flat and easy to fill.
In a small bowl, combine the parsley, pine nuts, garlic, 2 teaspoons of olive oil, mozzarella and the ground cilantro. Mix well.
Spoon the mixture equally into the mushrooms.
Place them into a small baking tray and cover with foil.
Bake for 15 minutes.
Remove from the oven and take off the foil. Drizzle the remaining two teaspoons of olive oil over the top of the mushrooms, and return to the oven for a further five minutes, uncovered.
Remove and serve while still hot.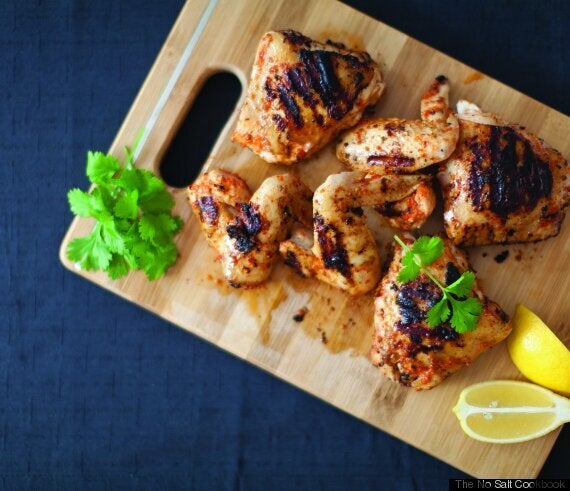 "Note that you can use the whole coriander bunch in this recipe, the leaves, stems, roots -- toss it all in the food processor! Just make sure that it is washed thoroughly before using."
1 red capsicum
1 large red chili
3 garlic cloves, peeled
Whole bunch coriander
½ lemon, zest and juice
½ teaspoon ground coriander seeds
900 grams of chicken
To roast the capsicum, place on a baking tray in a preheated 200°C oven for about 20 minutes, or until the skin starts to blacken. Allow to cool slightly then peel off the skin and chop roughly.
To make the marinade, add all the ingredients, other than the chicken, to a food processor, process until combined. (Reserve a little cilantro leaf for garnish).
Put the chicken pieces into a bowl and pour the marinade over. Make sure all the chicken is coated in marinade. Cover with plastic wrap and leave in the fridge for at least two hours (overnight is better).
Take the chicken out of the fridge 20 minutes before you are ready to cook, so that it can come back to room temperature.
Heat a grill pan to medium heat, cook the chicken pieces for about 15 minutes, turning over a few times, and basting about half way through with any marinade left in the bowl.
You can check the chicken is cooked thoroughly by cutting into a piece and making sure there is no pink inside.
Garnish with a little fresh coriander.
Popular in the Community