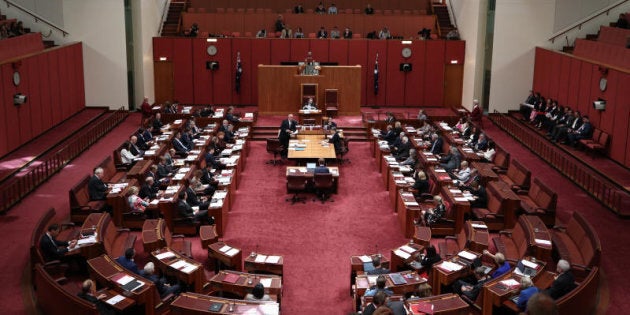 CANBERRA -- The move to legalise same-sex marriage in Australia has bounded a significant hurdle on Wednesday with the private senator's bill from Liberal senator Dean Smith passing the upper house of Federal Parliament.
The cross-party legislation passed the senate 43 votes to 12.
The bill, which was not significantly amended, now heads to the House when it sits next week. The Turnbull Government is attempting to meet a commitment to legislate marriage equality before Christmas.
Smith noted the historic moment and that it had been a respectful debate, thus far.
"In a world where there are more tensions between people, our country has offered a loving embrace to its own," he told parliament.
And he said there is a message for his party.
"We should not fear free debates. We should not fear conscience," he said. "The more the debate was resisted, the more the strength was found to fight for it.
"At some later point, we should reflect on how we can avoid that tortured process from ever having to happen again.
"This debate has been good for the soul of the country. It has been good for the soul of this chamber and it will be good for the souls of LGBTI children throughout our great country. It has been good for us all."
Labor's senate leader Penny Wong praised the outcome, calling it a "long time coming" and a "day many of us have hoped for".
She is hoping the House moves swiftly.
"Today, we stand on the cusp of a remarkable achievement and an historic event, and we pause briefly to reflect just for a moment of what we are a part," she said.
"We are a part of an act of acceptance, an act of inclusion, an act of respect, an act of celebration, a day when this Senate declares our acceptance of our LGBTIQ brothers and our sisters."
And to applause in the senate chamber; "There are some days that change our country for the better. This is such a day".
Attorney-General George Brandis said today was a historic day and praised the Government's running of the postal vote survey which resulted in a 61.6 percent 'yes' vote and lead to the move in Federal Parliament to legalise same-sex marriage.
"I am so proud of Australian democracy today, more proud than I have ever been. Nobody owns this result, but the Australian people themselves," he said.
"We should acknowledge and respect the historic nature of this occasion in respecting it, we should respect those who decide they do not want to support this bill, but, as it is evident, a clear majority of the chamber do.
"We should rejoice in what the Australian people have achieved this year."
Over the past day, a range of senators, from One Nation to the Greens, have unsuccessfully put forward a range of amendments covering religious concerns and conscientious objections.
But several key government senators including Smith, Defence Minister Marise Payne, Indigenous Affairs Minister Nigel Scullion, Linda Reynolds, Jane Hume and Education Minister Simon Birmingham voted with the Opposition to vote them down, apart from some technical amendments from Brandis.
Resources Minister Matt Canavan, a marriage equality opponent, conceded defeat.
"It is clear. It is clear that a political fix was in before we amended these amendments on the floor," he told parliament.
Birmingham is feeling optimistic about the road ahead.
"I believe quite possibly, by the end of next week, before Christmas, we will see same-sex marriage legalised in Australia," he told reporters in Canberra.
The Attorney-General would like some additional religious protections added to the bill in the House, but is taking a hands off approach.
"I have taken a very firm view that this ought not to be micro-managed by the government," he told reporters in Canberra. "What the Government promised to do was to facilitate a debate and that is what we have done."