Five of Australia's most prominent mental health groups have waded into the nation's aggressive same sex marriage debate, claiming up to 3000 high school suicide attempts a year could be averted by a 'yes vote'.
The extraordinary and unprecedented intervention into politics by groups such as the Black Dog Institute, headspace, ReachOut, Brain and Mind Centre at University of Sydney and Orygen on Thursday comes as gay Australians make heartbreaking pleas to neighbours to vote 'yes' in the contentious survey.
The mental health groups' campaign -- called #mindthefacts -- draws on peer reviewed studies showing the negative health impacts caused by discrimination against LGBTIQ people, and the groups say a 'yes' vote on marriage equality could reduce youth suicide attempts by up to 3000 per year.
"We were concerned there was some misinformation around about the Same Sex Marriage Postal Survey and we wanted to focus on what the evidence says and the evidence is fairly clear from other country's experiences," the Blackdog Institute's Dr Fiona Shand told the HuffPost Australia.
"If you legalise same-sex marriage then you are very likely to see a reduction in those suicide attempts and suicide deaths."
The groups normally stay away from politics, but felt compelled as the debate over same sex marriage grinds onwards, with six weeks left of voting.
Legalising same sex marriage in the U.S. has been associated with a seven percent relative reduction in the proportion of high school students attempting suicide, the mental health groups said in a joint statement.
Legalising same-sex marriage would signal to young people that its not just about the right to get married, Shand said.
"We don't get involved in anything to do with politics or anything like that. But in this case, the evidence is fairly clear: this could be really beneficial for our young people, for our school aged people in particular," Shand said.
"It's actually sending a very powerful message to our young people who are struggling with their sexual orientation and identity that they are accepted, and they do belong."
The #mindthefacts campaign follows talks between the mental health groups after a surge in demand for mental health services in recent weeks, as a result of the same-sex marriage postal survey.
"This confronting statistic highlights both the human impacts of the current discrimination against LGBTIQ relationships, and the positive future that marriage equality can achieve for Australia," said Jono Nicholas, CEO, ReachOut speaking on behalf of the campaign coalition.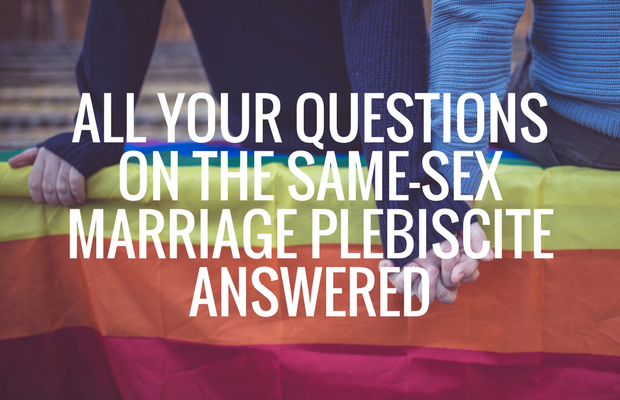 "As Australia's leading youth mental health organisations, we see, hear and feel the real and devastating link between LGBTIQ discrimination and youth suicide rates and mental illness every day.
"This has only been heightened by the decision to proceed with this postal survey, despite our warnings."
Mental health groups warned about the potential mental health damage of a plebiscite or postal survey on same sex marriage.
Just a week in to the federal government's $122 million survey and it seems few are untouched by the debate.
"I've spent my whole life and the long relationship I've been in, which has been a happy and loving one, feeling like it doesn't have the same legitimacy, respect and acceptance as other people's relationships," the Business Council of Australia chief executive told ABC radio on Thursday.
The tone of the debate has seen an increase in young people seeking help from mental health services.
"So there's certainly some fairly reasonable evidence that this is not having a good impact on young people, said Shand.
"It's hard to imagine there's this kind of fairly awful public debate going on without it having an impact on young people."
The survey results will be published on the ABS website on 15 November 2017, after ballots close in late October.
Meanwhile supporters on both sides of the marriage equality debate are expected to face off in Sydney's CBD on Saturday, with a 'Straight Lives Matter' protest and same sex marriage counter-rally planned for the same time and location.
If you need help in a crisis, call Lifeline on 13 11 14. For further information about depression contact beyondBlue on 1300224636 or talk to your GP, local health professional or someone you trust.