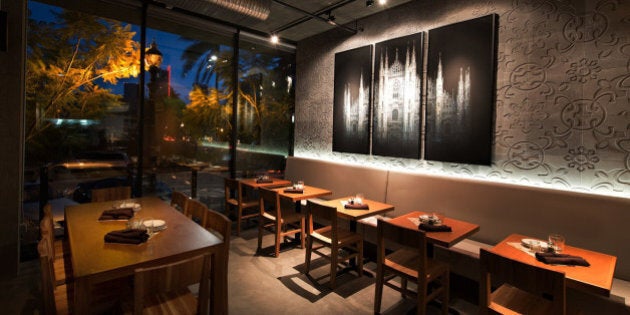 Aussies flock to California in the thousands each month, possibly because if it's similar laid back attitude and generally good weather. Though most are visiting the state's biggest city, Los Angeles, people really should consider putting San Diego on the itinerary, too.
About two and a half hours drive from L.A, San Diego is most famous for (besides its pronunciation in Anchorman), its beaches and also its zoo. Now more than ever, San Diego is also on the map for awesome eateries and notable restaurants. Here's a few areas you should consider on your next trip State side.
Pizza lovers, rejoice! Little Italy, in downtown San Diego, is a quaint and lively neighbourhood brimming with authentic Italian cuisine. Don't miss the old-fashioned, family-owned Fillipi's Pizza Grotto where traditional pizza and meatball subs have reigned supreme for over 50 years.
Monello's menu is inspired by Italian street fare and offers 'Milanese Aperitivo' (which is complimentary small plates with any drink -- score!) between 4pm and 7pm.
Of course no visit to Little Italy is complete without handmade gelato, and local favourite Pappalecco certainly doesn't disappoint.
This eclectic neighbourhood, east of Balboa Park, offers a dynamic mix of coffee houses and the city's most up-and-coming restaurant row, complemented by a dynamic local craft beer scene. Known as America's Craft Beer Capital, San Diego has long been a haven for 'beer connoisseurs', and North Park is right in the thick of the action. North Park's nightlife comes alive on the bar-hopping intersection of University Avenue and 30th Street.
Craft beer is king at Toronado San Diego, with 50 beers on tap featuring the best from local, domestic and international breweries.
Before hitting the bars, head to Carnitas' Snack Shack for a pig-centric feast that's big on flavour yet kind to your wallet.
The revitalisation of this warehouse district in downtown San Diego began in 2004 with the opening of Petco Park, the San Diego Padres' baseball stadium. Today, visitors to East Village can enjoy some of San Diego's most buzzed-about restaurants, including the eclectic Jsix Restaurant and Cowboy Star, a popular steakhouse with an in-house butcher shop.
Dining diversity is the hallmark of San Diego's Convoy District.
For fine Indian cuisine, check out Ashoka the Great. Quick, traditional Filipino food can be found at Manila Fast Food and Desserts. Convoy Drive itself features a strong collection of Chinese, Japanese and Korean establishments.
In June, the Convoy District will host the San Diego Night Market, an open-air experience inspired by the lively night markets found in cities across Asia. Local vendors serve up a variety of delicious Asian dishes and flavourful eats.
Originally a refuge for Mexican residents fleeing the revolution in the early 20th century, Barrio Logan today is both the epicentre of San Diego's Hispanic community and a welcoming neighbourhood where young urbanites and artists are spurring a creative renaissance.
For the most authentic home-style Mexican food you can find north of the border, Las Quatros Milpas is an unassuming eatery that often has a queue of hungry locals extending around the block. Luckily the freshly-made tortillas are worth the wait!
If tacos are what you're craving, try Salud! by San Diego Taco Company; their chorizo and fish tacos are not to be missed.