New satellite images of Rohingya villages across Myanmar's Rakhine State show alarming levels of devastation, advocates said.
A total of 214 villages have been almost totally destroyed, with more than 90 percent of the structures in each village damaged, according to Human Rights Watch.
"These images provide shocking evidence of massive destruction in an apparent attempt by Burmese security forces to prevent the Rohingya from returning to their villages," Phil Robertson, deputy Asia director at Human Rights Watch, said in a press release on Monday.
The group obtained the images, taken on Saturday, from a private satellite company. Heavy cloud cover as a result of monsoon season had previously prevented HRW from fully assessing the damages, Linda Lakhdhir, a legal advisor to the group, told HuffPost.
Burmese security forces appear to be "essentially burning villages behind people that flee to prevent people from being able to return," Lakhdhir said. Those who have managed to flee, she added, have told HRW that the "military comes to a village telling them to go away, shooting indiscriminately, looting and burning villages behind them. It's a campaign to drive people out."
Journalists touring the area earlier this month described similar horrors.
"We could see the first buildings in the village ablaze, but only just," BBC reporter Jonathan Head said. "Houses in these villages burn to ash in 20-30 minutes. It was obvious the fires had just been lit."
The Rohingya have faced persecution for decades. The latest spate of violence began in August after a Rohingya militant group attacked more than two dozen police posts. Government authorities have since cracked down on the ethnic minority, burning villages and slaughtering hundreds.
More than 400,000 Rohingya people ― almost half of the group's total population ― have fled Myanmar into Bangladesh in the last three weeks.
Myanmar's de facto leader Aung San Suu Kyi has drawn international condemnation over her muted response to the violence. She opted not to attend this week's United Nations General Assembly and instead delivered a televised speech from Myanmar on Monday, during which she claimed that there had been "no armed clashes and there have been no clearance operations" since Sept. 5
"Aung San Suu Kyi today demonstrated that she and her government are still burying their heads in the sand over the horrors unfolding in Rakhine State," Amnesty International said in a statement on Monday. "At times, her speech amounted to little more than a mix of untruths and victim blaming."
Human Rights Watch has urged the U.N. Security Council to impose sanctions and an arms embargo on Myanmar in response to the ongoing violence.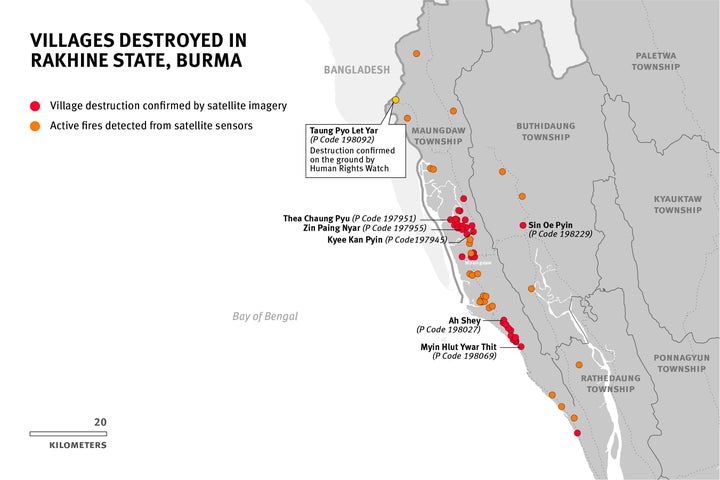 Popular in the Community