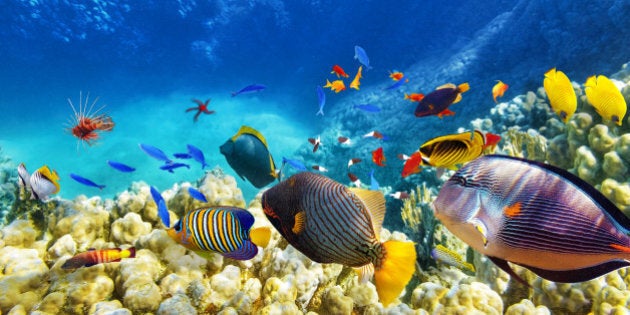 For beer lovers, there's nothing quite like a frosty cold one on a hot summer's day. But what if you could also be helping to save the environment as well as quenching your thirst with each swig?
James Grugeon, founder of Good Beer Co. is a man who's here to make that happen.
Good Beer Co. is Australia's first social enterprise -- a company that makes a profit and donates a portion of it for a good cause -- for beer.
Inspired and supported by UK's Two Fingers Brewery and US brewer Finnegans which donate money for prostate cancer and to feed the homeless, Grugeon created Good Beer Co. six months ago and has pledged 50 percent of its profits from its first brew, The Great Barrier Beer, through its charitable trust to the Australian Marine Conservation Society.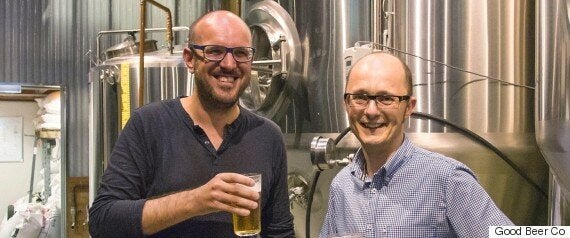 Good Beer Co. founder James Grugeon, left, with AMCS Director Darren Kindleysides.
"I've been thinking for a long time that beer has got to be something that we can use as a force for good," he told The Huffington Post Australia.
"I'm a campaigner at heart and I'm also an optimist and I think it's really important to make it easy for people to do good."
The Great Barrier Beer will be brewed by craft beer maker Bargara Brewing Company in Bundaberg next year assuming the Good Beer Co.'s Indigogo crowdfunding campaign goes to plan. At the company's recent launch in Brisbane, the crowd was asked to vote with their bottle tops between an Australian blonde and an Indian pale ale -- the latter won the day.
People who like the Good Beer Co.'s Facebook page are also being asked to vote to choose the beer's label.
But Grugeon knows interactive marketing and a good cause won't win the day. It has to be all about the beer.
"The bottom line is that if the beer doesn't taste good and people don't like the beer, then we're nowhere," he said.
"So we're going to work really hard with Bargara to brew a beer that everybody can enjoy. We're not going to brew something that you have to have a 10-inch beard and ride a penny farthing to enjoy -- not that there's anything wrong with hipsters. And I want hipsters to drink our beers too.
"But we'll brew a good premium beer that is easy drinking and accessible."
Grugeon has been an active proponent of change for the environment in his roles as head of corporate and social responsibility for a UK banking group, CEO of an environmental NGO and most recently working with renewable electricity firm Powershop and Getup! on the Better Power campaign. So it's no surprise he wants to support saving the Reef.
But he's determine this will not be a one-off.
"Over a period of three to five years we would like to brew 10 different beers for 10 different causes and try to raise at least $100K for each of them," he said.
"That's just a starting point.
"That's obviously about our ability to be able to mobilise a big group of people and sell a lot of beer to them and engage by being able to offer a range a different beers under the Good Beer brand.
He is now speaking with several craft brewers across the country to get on board as well as charities but, in keeping with the democratic movement of Good Beer Co, Grugeon says he wants the people to weigh in on the choice of future causes.
"We will go out to the people who have signed up as our first customers and ask them which one of these organisations would you like us to work with," he said.
"Those causes are important in terms of engagement so we will be looking for causes that are popular but at the same time we would also consider working with causes that we think are important and would benefit from our support."
Grugeon says he has a unique take on how important it is that causes are funded, and why social enterprises like his and be vital to their success.
"I ran an NGO about the same size as our first charity partner and I know how hard it is to raise funds," he said.
"And if we can generate a sustainable income stream for charities so they don't have to spend all their time on the phone begging for money and they can focus on the important work they are doing then that's a really positive thing."