Janine McAullay Bott still remembers attending a 1980s weaving class in Hawaii with much hesitation and disinterest. But over 30 years later, she can't think of anything she loves more than the intricate craft that has landed her a spot at Sydney's 2019 Sculpture by the Sea.
The 68-year-old Indigenous woman from Western Australia has spent the past year weaving a bush sculpture of a vintage truck that will exhibit at Bondi's world-famous event starting on Thursday.
"It's an enormous opportunity to display your work," she told HuffPost Australia. "It's a huge stage to showcase."
But beyond the spectacle of sharing her intricate art with the public is a deeper meaning behind her handiwork that pays tribute to her mother's Aboriginal heritage.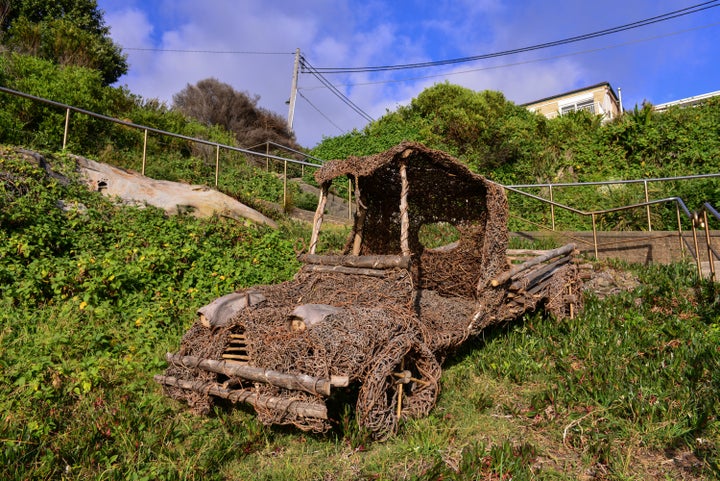 "Weaving is important to me because I struggled for years not knowing my worth," she said. "I inherited the Noongar background [people of the South West of Western Australia] from my mother Rena," she continued, adding her Irish father died when she was a baby.
"Weaving gives me my place, it's like a vehicle to show respect to my mother's people. It's uncomplicated – people see it's uncomplicated for them and they naturally reach out and pull the people in and most importantly, to easily associate it to the land because it's made from the bush. There's no wire holding my work together."
Her vintage bush truck sculpture took a year to create from palm fronds, bamboo, grapevine and palm branch. Described as "a ghost of itself", the installation was inspired by "old trucks discarded in the bush" that Bott had often noticed.
"It's a feeling of isolation, loneliness and loss and people look at it and may remember," she said. "It brings back memories of old days and when things were made strong and to last."
The artist said she's always advised people: "Don't just look at the weave, look into the weave".
"See the layers and if it's a figure, there's strengths and weaknesses in some places, like the truck is strong in some places and more fragile in others and that's like the Indigenous people. They are strong in some ways and weak in others."
Bott's creation will be displayed at Bondi's Sculpture by the Sea alongside over 100 sculptures by artists from Australia and across the world.
Having attracted approximately 450,000 visitors in recent years, the Bondi to Tamarama coastal walk exhibition is now in its 23rd year and will take place over three weeks.
The Aqualand Sculpture Award of $70,000 will be awarded to an exhibiting artist whose sculpture will be gifted for permanent public enjoyment in Sydney.
Here are more sculptures featuring this year.