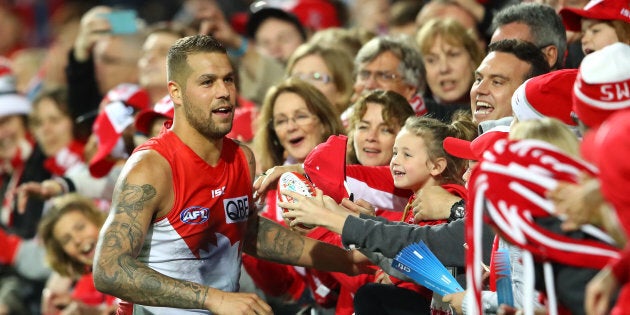 SYDNEY -- This might just turn out to be the greatest sporting story of 2017. It's already the most touching.
It's about two Sydney Swans fans who are almost certainly brothers. The younger of the two -- who is maybe six or seven or eight years old -- is blind, and spent last weekend's Aussie rules game against Carlton clutching a footy.
Meanwhile his brother -- who is thought to be about ten -- did excellent play-by-play commentary for his brother's benefit, of a standard which some say put the Channel 7 box to shame.
The world was first alerted to this moving scene by Swans fan and writer Jonathan Drennan who was at the game.
Drennan duly encouraged the Swans to find the boys.
The Swans said they would try.
But a day after tweeting their best intentions, the Swans have as yet had no luck.
"They were sitting in our red zone area which is a members area but there are no reserved seats there so we don't know who the family is," Swans media manager Loretta Johns told HuffPost Australia.
"They have been really hard to track down. We've put a shout out on social, but we're a little bit stumped at the moment."
Johns said the club had even gone through the process of checking the details of all members who require special access, but no family had yet turned up who fitted the description.
But they're trying. And the word is, when they find them, they'll be rolling out some serious red (and white) carpet for the family at the upcoming home final against Essendon.
Do YOU know who this family is? Here's a little more information from those who were at the game.