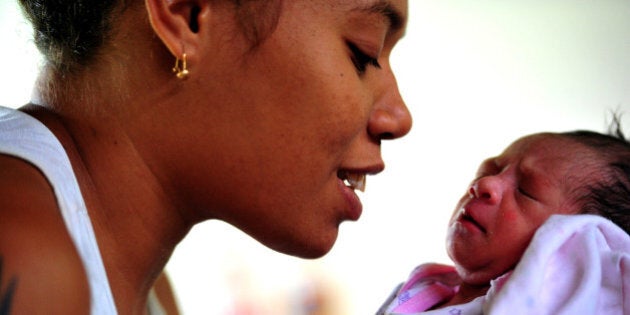 Obstetrician Dr Steve Robson was on a plane, reading TIME magazine, when his life -- and the lives of many others -- changed forever.
Robson had come across a photo essay about a woman in a developing country who had died in childbirth.
"The photos just showed they couldn't stop the bleeding and she died," Robson recalled to The Huffington Post Australia.
"As an obstetrician in Australia, it's a shocking thing. We [deliver babies] every day and [the death of a mother] is utterly preventable. It just made me think 'why isn't anybody doing anything about this?'
"What can I do as an obstetrician in Australia to make things better?'"
Unbeknownst to Robson at the time, this was the very beginning of 'Send Hope Not Flowers,' the Aussie charity making a point of reducing the instances of maternal mortality across the developing world.
As for the name (and general premise), Robson got the idea while doing ward rounds in the hospital.
"Every day I see the babies I've delivered and the women, before they go home, on my ward rounds," Robson said.
"And their rooms are nearly always full of flowers. Obviously they can't take them all with them, so when they leave, there can be bins full of these expensive flowers.
"It just made me realise there is is a hunger and appetite in the family and friends of the woman who has had the child to show they care in some way. It made me think -- 'what if a bunch of flowers here is actually a life saved somewhere else?'"
Makes you think, doesn't it.
It certainly roused the interest of Robson's long-time friend, internet consultant and entrepreneur Alex Fahey.
"Steve and [Send Hope Not Flowers team member, The Canberra Times journalist Emma Macdonald] came to me with this great idea," Fahey told HuffPost Australia. "They had gone and requested some quotes to set up a website -- and it was going to cost something like tens of thousands of dollars to set up a simple website to let people send these [donation] cards.
"I knew I could do this easily to help them, and I have to say, it's infectious. Once you start doing it and see the help it provides, you can't really stop. Before we knew it, we had the charity registered and launched, and it kind of kept going from there."
Currently, Send Hope Not Flowers works across Papua New Guinea, Indonesia and the Solomon Islands, and works closely with PNG-based Australian Dr Barry Kirby, whose "baby bundles" initiative has reduced the maternal deaths in PNG by 78 percent. Each bundle costs around $28 to make.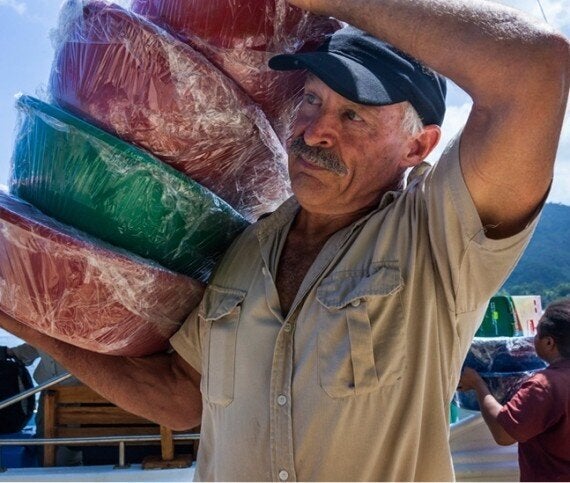 Dr Barry Kirby carrying some baby bundles.
"These baby bundles really are quite simple but are making such a tremendous difference," Robson said. "Basically, the bundle itself is a plastic baby bath. Packed in it are nappies, baby clothes, soaps and pads and hygienic things for the mother.
"Some food for the mother too... because what a lot of people don't know is, when [the mothers] go to the health centre, lunch and dinner aren't provided. Even things like maternity pads, which are so fundamental to dignity -- aren't provided."
"So basically we did have a situation where a woman had to walk down from the village and BYO food," Fahey added. "With these baby bundles, it's just another thing Mum doesn't have to carry when she walks down the hill heavily pregnant or in labour."
Better yet, the provisions in the baby bundles are sourced from local businesses, assisting to stimulate the economy in the area.
"And after you've finished with the bundle, you can grow plants in the bath so even the bath has a couple of uses," Robson said. "It's a clever thing and puts every single mother on the same footing, whereas before a woman may or may not be fed. In fact, it probably wouldn't happen unless you foraged."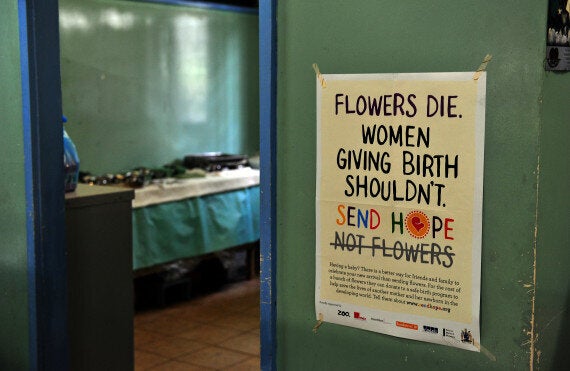 Give Hope Not Flowers operates in Papua New Guinea, Indonesia and the Solomon Islands.
Other services the charity focuses on is the provision of training programs and emergency kits -- once again, fairly simple ideas that can make an enormous difference.
"There are a lot of people involved in maternity care in Australia, and to have a mother die in childbirth is such a rarity," Robson said.
"I have been doing this for a living for 25 years, and in that entire time I've had one woman die in my care and that was an incredibly rare event.
"But recently, I was at a meeting in PNG and talking on a bus with a lot of midwives. They were staggered that I hadn't really seen death in women. It's just an ever present part of their life and their practice.
"It's shocking, when you think about it. You can get to Papua New Guinea much quicker that you can most places in Australia and that should shock us."
It's worthwhile to note all 'Send Hope Not Flowers' team are volunteers. There are no paid staff members and, according to Fahey, the biggest expense the charity faces in terms of administration are credit processing fees.
"Other that, 100 percent of the rest of the money goes to where it's needed," Fahey said.
Even the stamps used to send donation cards are personally purchased by a member of the team.
"At the moment all the cards are printed up by my admin staff, who then post them all off," Robson said.
"We really are trying to run it on a shoestring. It's incredibly important that people have some confidence if they were going to entrust us with our money."
If you'd like to support 'Send Hope Not Flowers', you can purchase a card or make a direct donation here.