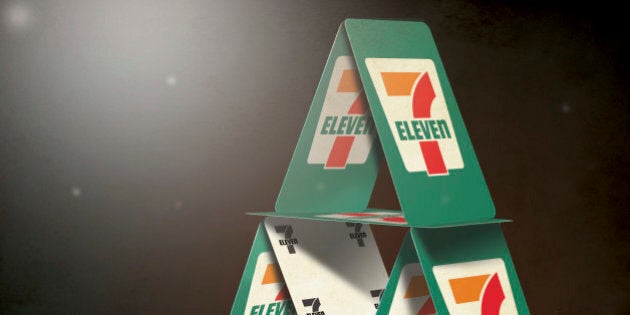 An international student was paid as little as 47 cents an hour to work at a 7-Eleven, a law firm says.
The allegations are the latest in a series to plague the convenience store chain, following evidence at a senate hearing staff at some outlets were physically intimidated and underpaid.
The law firm Maurice Blackburn Lawyers on Monday said one staff member was paid as little as $0.47 an hour.
"On his wages it would take a day's work to be able to buy a cup of coffee. It would take two days' work to be able to buy a sandwich," Maurice Blackburn Principal Giri Sivaraman told reporters in Brisbane.
He said the allegations were "probably Australia's greatest employment law scandal," and reports suggested anywhere from $25 million to $50 million was owed across at least 60 percent, but could be up to 100 percent, of franchises.
Sivaraman criticised the federal government's "radio silence" over issue, and he called for better education of migrant workers.
"Without exception, every single worker that we've spoken to has been completely unaware of their rights," he said.
"They're unaware of what they should be paid, their rights in relation to safety, they're unaware of their rights to take breaks. They're unaware of their right to complain, they're unaware of who they can complain to."
Former 7-Eleven worker Pranay Alawala -- one of two workers whose allegations sparked a joint Fairfax/4 Corners investigation into the wage allegations -- said migrant workers frequently don't know their rights.
Alawala, who no longer works for the chain, has recently received $33,000 in back pay.
"It's really widespread, I am still getting calls from stores in Brisbane. They don't know how to do the claims or how to complain," he told the Huffington Post Australia.
"Most of the international students, not only from India but from Pakistan, China, Japan, from all over the world they are working in 7-Elevens so it brings a bad impact on Australia.
"This is a good country, everyone is helping here, but they have to know their work rights."
The SDA – the union for retail, fast-food and warehouse workers – said it believes the latest revelations of underpayment are the tip of the iceberg.
"We know the exploitation is ongoing. 7-Eleven workers continue to tell the SDA that the cash back scam – which involves workers being forced to withdraw and pay back part of their pay – continues, but most of these workers are too scared to come forward publicly," SDA National Secretary Gerard Dwyer said in a statement.
A spokesman for 7-Eleven told the Huffington Post Australia the allegations were a matter for former competition tsar Professor Allan Fels' Wage Fairness Panel, set up by the company to investigate the claims.
Fels has been a harsh critic of 7-Eleven.
The embattled chain on February 2 announced it had appointed also a former police officer to investigate criminal activity and fraud within its Australian empire.
Last week two former 7-Eleven workers who played a role in exposing underpayment at the convenience store chain received their back pay.
In September last year 7-Eleven chairman and billionaire Russ Withers resigned from the board of the convenience store chain, along with chief executive Warren Wilmot, in the wake earlier worker exploitation scandals.