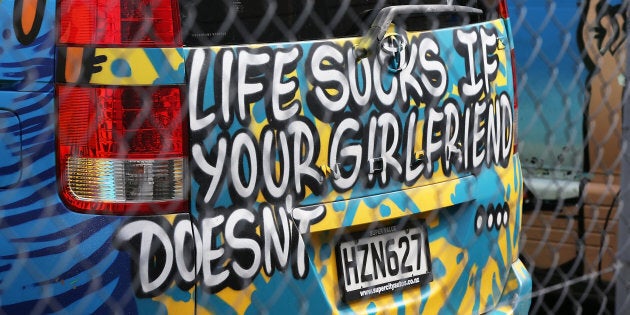 In new legislation targeted at the controversial Wicked Campers car rental company, Wicked Campers, it will soon be illegal for vehicle owners and commercial operators in Queensland to refuse to remove offensive slogans from their vehicles.
The changes will come into effect in March.
Main Roads and Road Safety Minister Mark Bailey said that the new law "strikes the right balance between firm and fair".
"If the Advertising Standards Board determines that an ad on a Queensland registered vehicle needs to be removed or modified, the registration holder will have a chance to make those changes.
"If those changes aren't made, the registration of the offending vehicle will be cancelled, simple as that."
Deputy Premier Jackie Trad said the legislation was targeted specifically at Wicked Campers, whose vehicles frequently displayed "sexist, demeaning slogans", according to the Sydney Morning Herald.
"We have essentially put Wicked Campers on notice that they are to remove these offensive slogans and if they don't then their vehicles will be deregistered here in Queensland," she said.
"If companies can't put offensive and demeaning things on billboards because it's not what people expect, then the same should apply to vehicles driving on our roads."
Wicked Campers hire out camper vans emblazoned with slogans such as,"in every princess, there's a little slut who wants to try it just once" and "fat chicks are harder to kidnap".
According to Bailey, the move is a response to long-standing community concerns regarding the brightly-coloured vehicles that have become a common sight in Queensland.
Rather than ignore Board determinations, as has sometimes been the case in the past, registered operators now have a good reason to make the required changes and fall in line with community expectations," he said.
"If you want to take offense that's your choice and you've got to remember it's a choice and other people make different choices," he told the ABC in August.
"Most of the statements I've read from the vans are able to be interpreted in a couple of ways and they require a degree of sophistication to know what they're getting at."
Following the amendment on Tuesday, Attorney-General and Minister for Justice Yvette D'Ath said: "Many people across the community have been concerned for some time about the derogatory, sexist and outright offensive slogans and cartoons on the side of some commercial Queensland vehicles.
"The Palaszczuk Government is leading the country in taking action on this issue and we're working closely with other states and territories to promote a nationally consistent approach to vehicle registration laws on this issue."
The Huffington Post Australia has contacted Wicked Campers for a response to the ruling.